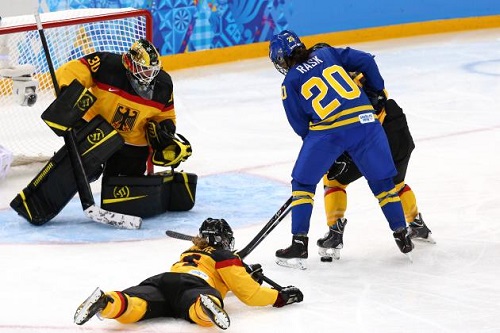 Team Sweden put on quite the offensive showcase for the world as they shut out the Germans in a Women's Ice Hockey Group B match up at the Shayba Arena during the Sochi Winter Olympics on February 11, 2014. The Swedes had the upper-hand headed into this game after beating Japan 1-0, whereas the Germans previously suffered a disappointing 4-1 loss to the Russians. Sweden set the mood early on with a Emma Nordin goal just one minute into the game. It was a one goal game up until early in the third period where Cecilia Osterberg widened the Swedes' gap 2-0. Soon enough, Sweden converted yet another chance as Johanna Olofsson buried a puck on Germany's netminder Jennifer Harss.
With German defense growing weary and sloppy, Sweden was able to easily secure their final goal off a flawless slap-shot finish from Swedish forward, Pernilla Winberg. Germany struggled to create any offensive momentum whatsoever throughout the entire course of the game, lacking creativity and ambition and unfortunately for them, the final result reflected that. Sweden's goalie, Kim Martin Hasson, who is the first women's goalie to play in four Olympics, stopped 21 shots to complete her shutout, while Germany's Jennifer Harss surrendered four goals on 29 shots.
Sweden improves their record in Group B to 2-0 as Team Germany tumbles lower in the pool after suffering their second loss in the competition. That being said, the Germans will not be able to secure one of the top two Group B spots and reach the quarter-finals of the eight-team tournament. Along with this brutal loss, the poor Germans found out that their hockey program will now lose money since they had to finish in the top 6 to continue to get the funding they need, but by losing to Sweden Tuesday, they won't finish any higher than seventh.
Brew yourself some coffee and wake up bright and early Thursday morning to support Germany as they look to improve their unfavorable record against Japan at 3 AM ET.