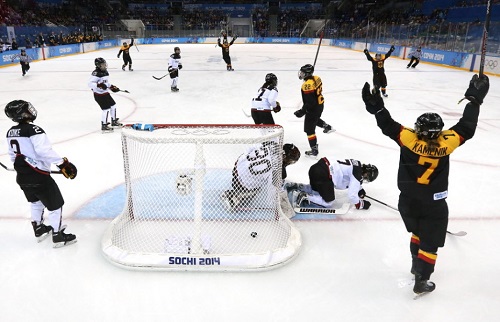 Germany overcame the Japanese team in a 4-0 shutout victory Thursday morning, to celebrate their first win in Sochi. The scoring began thirteen minutes into the first period when Germany's Manuela Anwander sent a puck to Nana Fujimoto's net on a power play advantage. Franziska Busch netted her first of two goals at the start of second period after a steal.
The Japanese began to attack for the next 30 minutes but were unable to find a way through German defense to make the comeback. Two goals in the final two minutes rounded out the game for Germany; the first came from Kerstin Spielberger and the second from Busch in the expiring seconds on along empty-netter. German goaltender, Viona Harrer, made 30 saves to complete the shutout. Nana Fujimoto of Japan stopped 21 of 24 shots faced.
Both teams were knocked out of medal contention after beginning this tournament with poor records of 0-2, but will move on to the classification round to determine their final ranking on February 16th.