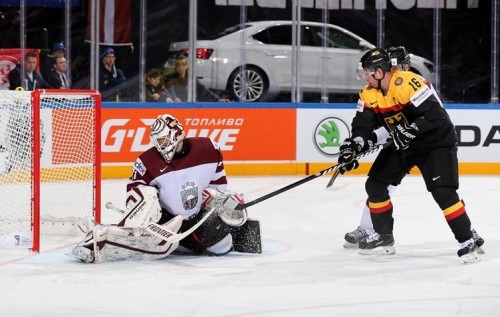 The Germans have wedged themselves back into the tournament after three consecutive losses; a 10-o romp at the hands of the Canadians, and two close losses to Sweden and Switzerland.
A strong showing in the third period allowed the Germans to push past Latvia by a score of 2-1, all but eliminating the latter's chances at making the playoff round. Though the Latvians drew first blood in the first period on the powerplay (a tripping penalty called on Patrick Hager), the balance of play was largely in favor of the Germans. They finally managed to break through on an extended powerplay, after Latvian alternate captain Janis Sprukts was ejected for kneeing, allowing the Germans to even the score off a Michael Wolf goal.
Matthias Plachta would seal the game for the Germans with two and a half minutes left in the game; improving the prospects of a German team remaining in the top-flight tournament next year, and perhaps advancing to the playoff round. The Germans do face an uphill battle, facing off the hosting Czech Republic on Sunday, before wrapping up their group play against the lowly Austrians on Monday; though they will be paying especially close attention to Switzerland, who lead them by three points and face an undefeated Canadian squad and the hosts to wrap up their play.