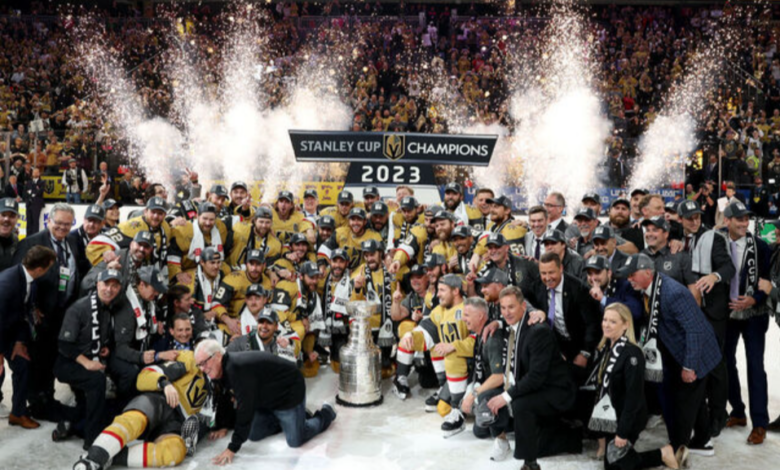 In Game 5 of the Stanley Cup Final on Tuesday, the Vegas Golden Knights defeated the Florida Panthers 9-3 to win the first championship for their organization.
First-period goals from Mark Stone and Nicolas Hague gave Vegas a quick 2-0 lead.
The Panthers had a chance after Aaron Ekblad's goal at 2:15 of the second period, but the Golden Knights soon put the game beyond their reach. Stone and Michael Amadio added to the lead to end the middle stanza after Alec Martinez and Reilly Smith each scored 1:45 one after the other.
Stone's third-period empty-net goal gave him a hat trick, the first in a Stanley Cup-winning game in more than a century and the first in the Stanley Cup Final since Peter Forsberg's in 1996.
Vegas won easily thanks to 30 stops from rising netminder star Adin Hill.
"I thought we earned every step of the way," Golden Knights head coach Bruce Cassidy told Sportsnet. "The series we won, I thought we played as the better team, so good for us."

"(Vegas) earned it," Panthers bench boss Paul Maurice said, according to The Athletic's Michael Russo. "They were outstanding, and we didn't have an answer for it."
The Conn Smythe Trophy for postseason MVP went to Jonathan Marchessault, one of the original members of the Golden Knights. In 22 postseason games, he recorded 13 goals and 25 points.
The previous mark of eight, held by the Pittsburgh Penguins in 1991 and the Edmonton Oilers in 1985, was surpassed by the Golden Knights' nine goals, which are the most ever in a Stanley Cup-clinching victory.
Matthew Tkachuk, Florida's standout forward, was injured on Tuesday and was unable to play.
The only other team to have four players reach the 10-goal plateau in the postseason was the Oilers in 1985, 1988, and 1990.
With the victory, Martinez, Phil Kessel, and Jonathan Quick all won their third Stanley Cup. Only Martinez from the group participated in this year's championship game.
Vegas joined the NHL as an expansion team in 2017–18. The first Golden Knights team had a magical run to the Stanley Cup Final before falling to the Washington Capitals in five games.
A significant Las Vegas-based men's professional team winning the title is a first. In 2022, the Las Vegas Aces captured the WNBA championship.
Though the team existed for seven years in the WHA before joining the league in 1979, the Golden Knights are also the first organization to win a Stanley Cup in a club's first six NHL seasons since the 1984 Oilers.
"Playoffs in three, Cup in six," team owner Bill Foley said in 2016. "No excuses. That's the standard. I consider that being very patient."
Viva Las Vegas.