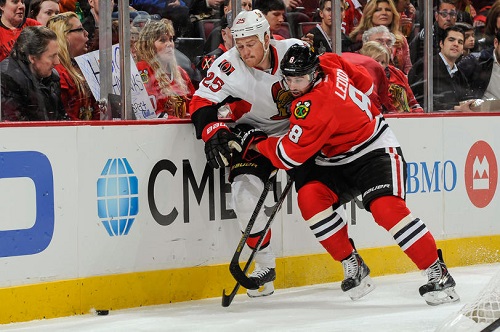 Twelve games into the season, the Ottawa Senators are allowing an average of just over 3 goals per game, good for sixth worst in the league.
But they're 13th in goals for, scoring just under 3 goals per game. One's response to this would be that it's obvious why they're losing. If you score less than the other team, you lose — plain and simple.
Still, averaging the 13th most goals per game in the league isn't bad. So, it's Craig Anderson's fault … No, actually. Those who have been around hockey long enough will tell you that it's rarely the netminder's fault, and in this situation, they'd be right.
The defensive core that ranked second in the league in goal against in 2012-2013 now ranks 20th. Sure, Anderson's save percentage isn't great at .911, but he faces almost 33 shots per game. Unlike the Toronto Maple Leafs, whose goalies face almost 32 (Bernier) and 30 (Reimer) shots per game and still somehow manage to top the Atlantic division, Anderson and the Senators are struggling with constantly being under fire.
In the 2012-13 season, Anderson faced 17% less shots per game than he currently does. When you deal with averages per game night-in and night-out, this is a significant change.
It's arguable that, had Anderson played uninjured last season, he would've won the Vezina. Even after a high-ankle sprain, he lead the league in save percentage and goals against average.
He's a solid goaltender and he's proven that. So, just because he gives up an extra 5 shots per game shouldn't make too much of a difference, should it? That all depends on the quality of the shots — whether they're high-percentage or not, and whether or not they're scoring-chance shots. Herein lies why the Senators are 4-6-2 after 12 games. And it starts with the defencemen.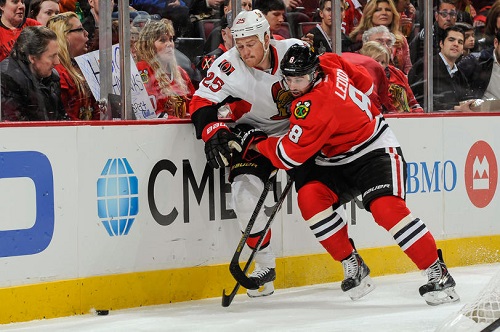 Blueliners are taught from a young age that it's necessary to close the gap between them and the attacking forward as they approach the blue line. This is to make it possible for them to separate the forward from the puck shortly after they cross the blue line. Once this happens, the scoring threat is eliminated, and with a change in puck possession, they may now attempt an attack of their own.
This basic tenant of playing defence is what's currently lacking from Ottawa's game. Here is the evidence.
In their recent loss against Chicago, notice Methot's positioning on the left side of the ice relative to Oduya as he skates in. Pause the video when Oduya reaches the blue line (about 1:58).
http://www.youtube.com/watch?v=cF2QiSrNhV8
Where are Methot and Karlsson? Already at the top of the circles on both sides of the ice. With no pressure from Methot, Oduya has a perfect view of the ice and all the time in the world to make a nice pass to Toews who Karlsson doesn't see streaking in because he's focused on the puck carrier. When he turns around to check Toews, the puck is already in the net and the game is tied. Another blown lead.
In this next video, Methot angles Crombeen perfectly and finishes up with a hip-check.
When Crombeen enters the zone, Methot is no further away than one stick length. Crombeen sees that he's running out of space so his only option is to dump the puck into the corner. He is shortly after mangled by Methot. He was finishing his hit and the Lightning forward had no reason to chase him across the ice after the fact. Unfortunately, Methot hasn't made many of these plays this season and neither have the rest of the defencemen.
Every one of them is guilty of backing in too far and not closing the gap and it surprises me that coach Paul McLean hasn't addressed it. Ottawa's seven d-men are a collective +1 through 12 games. Compare that to a team like the Colorado Avalanche (lead the league with the least goals against) whose defencemen are a collective +26 after 11 games.
I argue that, if the defensive core starts closing the gap on incoming attacks as they reach the blue line more often, they will have more games like they did against the Red Wings. It should be noted that the forwards must also apply back pressure in their back-check, and pick up or account for attacking forwards who don't have the puck.
There are evidently more reasons for Ottawa's poor player after 12 games, such as the loss of Alfredsson's leadership and work ethic. Unfortunately, there is absolutely nothing the team can do to change the fact that he's moved on. What they can do, however, is focus on a more tangible aspect of their game and I believe that, if what I have explained above is implemented, outcomes of upcoming games will be more favourable.