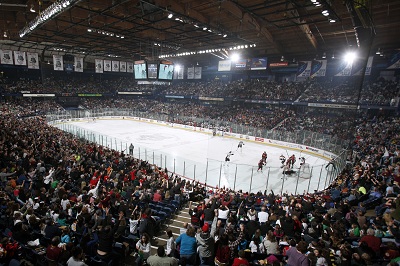 Friday night the Griffins took on the Chicago Wolves. The starting lineup for Grand Rapids consisted of Tristan Grant (LW), Louis-Marc Aubry (C), Mitch Callahan (RW), Chad Billins (D), Brennan Evans (D), and Tom McCollum in net. For the Wolves, the lineup consisted of Brett Sterling (LW), Andrew Ebbett (C), Zack Kassian (RW), Kevin Connauton (D), Derek Joslin (D), and Matt Climie in goal.
Although his stats are not anything special, McCollum's record of 5-3-1 is not horrible. But there is much room for improvement. Petr Mrazek has assumed the role of head netminder. The last 3 years have seen McCollum have losing records (10-16-2 – 2009/2010, 6-12-2 – 2010/2011, 11-16-0 – 2011/2012).
The first period saw no scoring, but defenseman Adam Almqvist took advantage of an early 2nd period powerplay opportunity to put it past Climie (assisted by Nathan Paetsch and Landon Ferraro), and give the Griffins a lead just one minute into the period. And that was it for the first 2/3 of the game.
Seeing a chance to start a recurring trend in the game, Joakim Andersson tallied a quick 3rd period goal just 4:20 into the stanza (assisted by Ferraro). 1:50 later, Tomas Tatar scored to make it 3-0 (assisted by Gustav Nyquist), and that score would stand for the duration of the game.
McCollum stopped all 20 shots he faced in the contest, while Climie stopped 34 of 37 shots. McCollum's performance earned him the first star honor. Climie and Andersson were 2nd and 3rd stars respectively. Aubry and Tim Miller both had 10 minute unsportsmanlike conduct penalties in the game.
In the last 6 games since Thanksgiving (last article), Grand Rapids is 4-3. They are currently in 2nd place in their Division with a record of 12-7-1.
Saturday, December 8 – Grand Rapids vs. Rockford @ 4:00 ET
Next Friday, December 14 – Grand Rapids vs. Peoria @ 7:00 ET
Sunday, December 16th – Grand Rapids at Toronto 3:00 ET
Follow me on Twitter @yungspork and look for more frequent articles soon as I finish my exams this coming week.