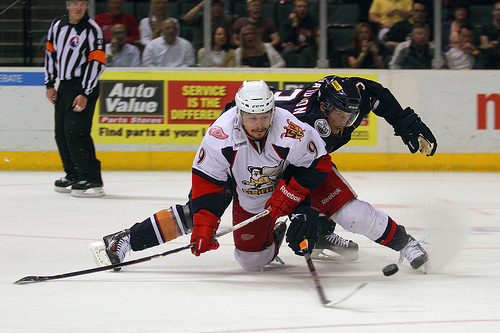 The Grand Rapids Griffins have made it to the "Final Four" of the American Hockey League, and after a pair of Round 3 games this weekend are tied with the Oklahoma City Barons.
Game 1 was Friday night and took place in Grand Rapids. Brennan Evans struck first for the Griffins early in the first period, giving them a 1-0 lead. Riley Sheahan and Tomas Tatar had the assists. Andrew Hotham of the Barons evened things up in the same period. Jonathan Cheechoo and Mark Arcobello assisted on the tally.
2:35 into the second period, Landon Ferraro scored, from Mitch Callahan and Tomas Jurco, giving the Griffins a one goal lead that would stand for the rest of the game, allowing Grand Rapids to hold on for the remaining 37:25.
Petr Mrazek bounced back from a lackluster ending of Round 2, stopping 27 of 28 shots, for a save-percentage of .964.
Both teams were unsuccessful on their powerplays, for a total of 0/7 total. Shots were even at 28. The second period saw a total of 29 shots taken while the final period only had 11.
Game 2 was Saturday night and was also in Grand Rapids, following the AHL's 2-3-2 playoff format, unlike the NHL, but similar to MLB.
GR was outshot in the first period 12-6, which is not something they are used to. However, Tomas Tatar managed to score in the final minutes assisted by Brett Skinner to give his team the lead.
In the second period, Triston Grant was called for hooking, and OKC's C.J. Stretch capitalized just nine seconds into the man-advantage (assisted by captain Josh Green and Toni Rajala). It would remain tied after 40 minutes.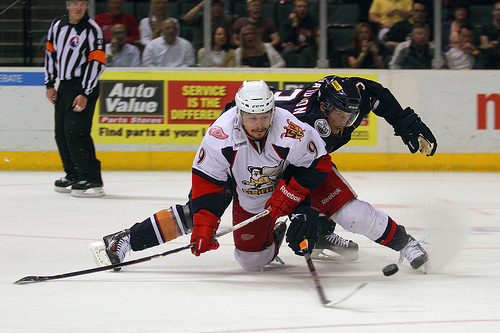 In the third period, the Griffins only registered 7 shots on goal, which proved fatal for the team. Teemu Hartikainen scored just a minute into the period (from Rajala and Taylor Fedun). Callahan tied it up for Grand Rapids just two minutes later, but it wouldn't be enough. Arcobello scored later in the period from Philippe Cornet and Cheechoo, and Hartikainen tallied an empty-netter with 24 seconds left in the game.
The Barons outshot the Griffins by a total of 37 to 22. Mrazek stopped 33 of 36 shots not at an empty net for a SP of .917 for a two game total of .938.
The schedule for the remaining games is as follows:
Game 3 in OKC Wednesday at 8:00 ET
Game 4 in OKC Friday at 8:00 ET
Game 5 in OKC Saturday at 8:00 ET
Game 6 (if necessary) in Grand Rapids next Tuesday at 7:00 ET
Game 7 (if necessary) in Grand Rapids next Wednesday at 7:00 ET
Follow me on Twitter @yungspork