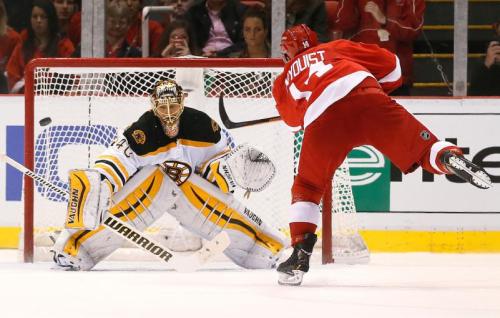 Gustav Nyquist, in his one-hundredth career game, scored his third goal in as many games on Wednesday night. Nyquist's red-hot start has been one of the few bright spots on this Detroit Red Wings team. Never one to boast, when asked how he felt about his hot streak, he stressed that the only goal is to win games. However, his efforts were not enough to save the Red Wings from their first shootout loss of the season.
The team has scored just six goals in its first three games of the year, and last night was no different. The schedule so far has been everything but a cakewalk. They have faced Boston twice and Anaheim once, both of whom could easily win their respective conferences.
Jimmy Howard has faced a lot of work lately, and has had to keep his team in games because of the lack of offensive support provided by his teammates. Detroit probably should not have won Wednesday, but Howard stole the show. Facing the dominant Bruins power play, he made save after save, keeping the score close.
"He was phenomenal," said Nyquist. "He was the one that kept us in the game and saved a point for us."
Detroit actually outshot Boston in last Thursday's home-opener 24-17, but the opposite happened this time around. The Bruins fired a total of 39 shots at Howard, while Detroit managed just 20. It was only a matter of time until Boston's slow 1-3 start to improve.
Bruins forward, and younger brother of Red Wings defenseman Brendan Smith, Reilly Smith was one of the goal scorers in the contest.
"We definitely came out with a lot more energy, played our game a little bit more than we did the last couple," said Smith. "It was good, I think it showed we're a much better team than what we showed the last four games."
The Red Wings realized they were lucky to emerge with a point. "They were playing really good," said Tomas Tatar, who scored Detroit's first goal. "We were chasing the puck most of the night. They spent most of the time in our zone. We just have to play better. It wasn't one of our best games, but we are happy for a point. Howie was outstanding. It's kind of hard in a shootout, it's fifty-fifty. They scored and I think they had more confidence for their second shooter."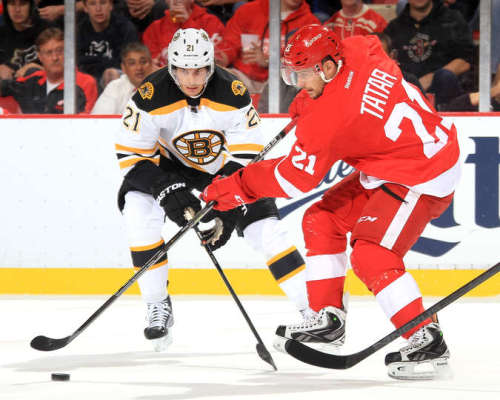 Although Detroit scored one of their two goals on the power play, they were able to record just two shots on net after four opportunities.
"For our unit, we have to settle down a little better with the puck," said Tatar. "We have to wait for our chance and be a little more calm with the puck in the zone. I think we did a good job in the preseason. Hopefully we'll figure it out soon."
The schedule doesn't get any easier anytime soon. Seven of their next ten contests are on the road. In those ten, they must face divisional rivals the Toronto Maple Leafs twice, and the Montreal Canadiens, Pittsburgh Penguins, and Los Angeles Kings once.
Detroit faces Toronto this Friday and Saturday night in a home-and-home.
Follow me on Twitter @yungspork
Love Reading About Hockey?

Subscribe to keep up-to-date with the latest and most interesting hockey news!
| | |
| --- | --- |
| | We hate spam just as much as you |