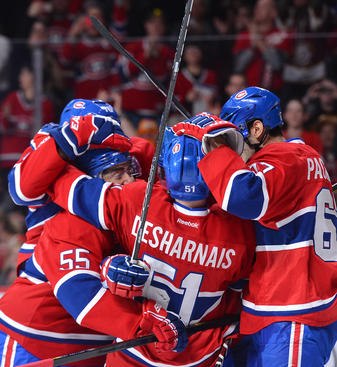 The Montreal Canadiens added to more wins on the weekend and continue to roll. After getting blown out by the Ottawa Senators 5-1 on Wednesday, the Canadiens returned home and beat the Buffalo Sabres and the Sens. PK Subban and Max Pacioretty both returned to the lineup, and with limited ice time, both were able to contribute in small ways. With a full lineup, the Habs got two key wins and continue to have a dream season.
The Habs opened the weekend with a dominating win against the Sabres. It was the first game of the season for Subban and he was still able to get 18 minutes of ice time.
"When you're playing your first game and the team has a great start, it's sort of relief and it's easier to handle the puck and do all that stuff," said Subban. "So I'm just happy with the win here today."
But the bigger story was the reemergence of David Desharnais and Lars Eller, who finally getting on the score sheet. With all the success the Habs have had these season, these two had been relatively quiet until Saturday. Desharnais picked up two goals and Eller added a goal and two assists.
"We've been struggling a bit the last couple of games so I think it was relief for Davey (Desharnais), too, to see the puck go in twice," said Eller. "It's a great feeling to score and a great feeling to win."
Desharnais and Eller scored 28 seconds apart to open the game up for the Habs. It was only 2-0 before they scored both their goals to give Montreal a 4-0 lead and all the momentum.
"I've got to be better, I want to be better," Desharnais said. "There's nobody else that's going to feel sorry for me so I've just got to be better and I was tonight. I just want to keep going."
Carry Price was solid when called upon, making 30 saves in the win. The only goal that beat him was a shorthanded breakaway from Thomas Vanek that Price almost had.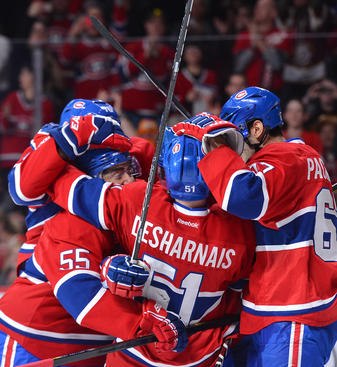 And the kids continued to shine. Brendan Gallagher scored his third of the season and Alex Galchenyuk added two more assists. These two have been stars for the Habs this season and continue to contribute .
Their second game was closer, a 2-1 win over the Senators. Price stood on his head for the Habs, making 32 saves after giving up an early goal to Jakob Silfverberg.
"We've got to maintain an even keel attitude," Price said "Whether things are going really good or really bad, we've just got to come to the rink with the same attitude and the same work ethic."
Head Coach Michel Therrien was really happy with Price's play.
"As far as I'm concerned he's one of the best goalies in the league," Therrien said. "There are a lot of good goalies in the League, but he's in there with them."
After falling behind early, Montreal scored their two first period goals by crashing the net and Craig Anderson.
Desharnais added another goal on a deflection of a Pacioretty shot. Then Erik Cole made a fancy move to score on the back hand. Anderson didn't really have a chance on either goal.
But the biggest story was the goal that didn't count.
Early in the third, Ottawa thought they had a goal. But Silfverberg was whistled for goalie interference. Except he didn't touch Price until the puck was already on its way into the net and even then, the play didn't move Price at all.
"Personally, I don't like calls like that," Pacioretty said of the Ottawa non-goal. "It's tough for a player like me because I'm always going to the net, it kind of gets me second-guessing myself sometimes when I go to the net. It's tough, it's a tough break for them."
Price didn't have much to say about it.
"I don't ever comment on the refs," he said.
But the Globe and Mail made sure to add that Price had " the faintest shadow of a smile."
Montreal won the game because of a bad call. But they still played a strong game and continue to silence critics who expected them to not be competitive. Buffalo and Ottawa are good teams, and Montreal held their own and picked up four points.
But the shortened season doesn't get any easier for the Habs. Their next game is Wednesday at home against the Boston Bruins, who currently sit atop the Eastern Conference standings.
Quotes from the Globe and Mail, NHL.com and Montreal Gazette.