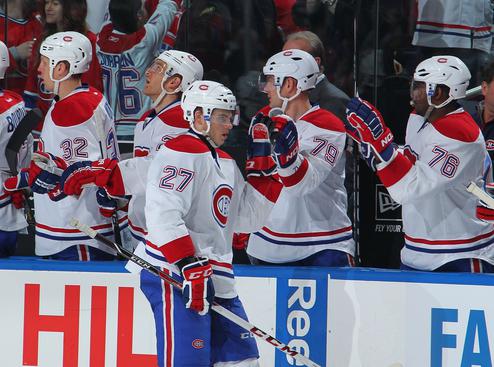 The Montreal Canadiens made it official Thursday night, they are going back to the playoffs for the 80th time in team history. The team clinched their long forgone spot with a decisive 5-1 win over the Buffalo Sabres. Rene Bourque, Alex Galchenyuk, Brendan Gallagher, Andrei Markov and PK Subban scored for the Habs, who used their speed and depth to run up the score early. Peter Budaj picked up his seventh win of the season and first with a new two-year deal, making 14 saves.
Even though the win made Montreal's playoff spot official, the team has been dominate all season and was basically guaranteed a spot before the win. Since March 5th, when they lost 6-3 to the New York Islanders, the Habs have only lost three games total. They have found ways to win games by outworking their opponents and staying healthy.
"Marc Bergevin, for his first year to come in [as executive vice president and general manager] and put together a group that was able to clinch a playoff spot with [eight] games left in the season, it's a pretty big accomplishment," Subban said. "And Michel Therrien has done a great job with our group. It's been an unbelievable year from top to bottom."
Subban himself has been putting together a Norris worthy season. After missing the first two weeks of the season over a contract dispute, he has come into the lineup and dominated. He added another goal and assist Thursday giving him 34 points, five more than Ryan Suter for the lead among defencemen.
"Winning is fun, it feels good to win," Subban said. "This was one of our best games and we played a good game right from the start."
Last year, Markov and Brian Gionta missed a majority of the season with injuries. These injuries forced Montreal into a rebuild and after finishing last in the Eastern Conference last year, there was room for young guys to jump into the lineup. And for the first time all season their two top young guys, Gallagher and Galchenyuk, scored in the same game.
"We've got two young kids out there and we give them big roles," Therrien said. "…We like the way our young kids are playing."
"I always try and go out there and play with confidence," Galchenyuk said. "As a young player, you know you have to work even harder and that's what I'm trying to do."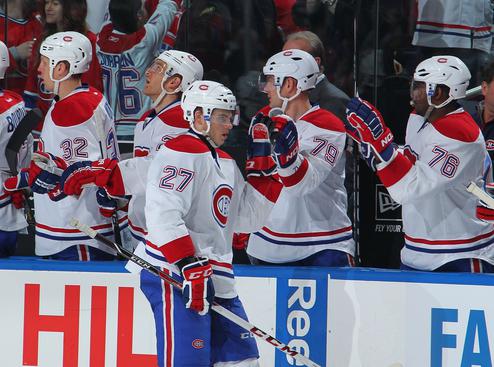 Budaj signed a new two-year contract extension on Wednesday and had a fairly easy game Thursday. The one goal he gave up was on a two-on-one and he got a piece but not enough of the puck.
"We played one of the best games I've seen our team play this year," Budaj said. "It's just exciting to see and I'm very thankful to be part of this team. We have a great group of guys and it's the first step with many ahead of us."
Still, Therrien insists the idea of clinching a playoff spot will not phase his team.
"It's a good accomplishment, but that's only a first step. That's the way we see it. And this is the way those guys see it too," Therrien said. "And we realize that there's a lot of hockey to be played and there's more steps coming."
The Habs begin their final eight games of the season with a big game against the Toronto Maple Leafs on Hockey Night in Canada Saturday.