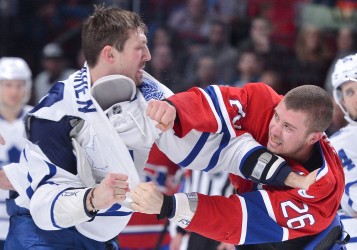 The Montreal Canadiens losing streak hit three games on Saturday when the Toronto Maple Leafs came into the Bell Centre and crushed the Habs 6-0. Nothing went well for the Habs in this game from beginning to end and they deserved the beating they got. With 116 penalty minutes between the two teams, including three fights and five game misconducts in the third period alone, this rivalry took an ugly turn that Montreal is going to want to forget soon.
The problems began almost right from the start. Leo Komarov and Nikolai Kulemin out muscled Andrei Markov and Alexei Emelin to get Komarov his first goal of his career. That came 59 seconds into the game and Montreal never came back.
Six minutes later, another breakdown by the Habs defence cost them a goal, this time from Tyler Bozak. Toronto was positioning themselves up for a victory early and Montreal just looked flat.
Head Coach Michel Therrien addressed this in his post game press conference.
"We had a really slow start," Therrien said. "They were ready to play and we were not."
The Leafs scored early and late in the second to take a 4-0 lead. Montreal did register 20 shots on goal in the second, but as Brian Gionta said after the game.
"We just didn't score."
The second also saw the penalties start to pile up on both sides. Montreal took five minors in the second, and it cost them on the fourth goal, when Phil Kessel fired a shot past Carry Price.
"I thought we had some quality scoring chances," said Tomas Plekanec. "But we weren't able to score and they scored (twice)."
Then things really got unhinged in the third.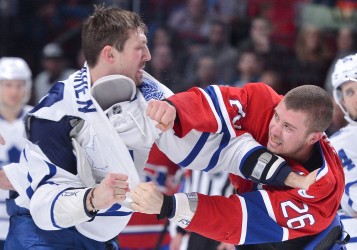 The teams started to fight, Toronto scored two goals and a bunch of players were ejected.
"It was just frustration boiling over," said Gionta. "Guys weren't happy with the way things happened tonight."
The biggest scrum saw Mikhail Grabovski bite Max Pacioretty. Both were ejected to the game and Grabovski will face a hearing for the bite.
A few minutes later, Toronto tough-guy Colton Orr took tried to knee Plekanec but missed. This triggered another brawl, one that Josh Gorges was involved in.
"We weren't happy with the position we were in, we were frustrated," Gorges said. "Things like that happen and the blood starts to boil."
The game couldn't end fast enough for the Canadiens. They will look to snap their three game losing streak Tuesday, when they travel south to face the Tampa Bay Lightning.
"That was a bad performance from our club, there's no doubt about that." said Therrien. We are going to find a solution and make sure it doesn't happen again."
Quotes from Habs TV.