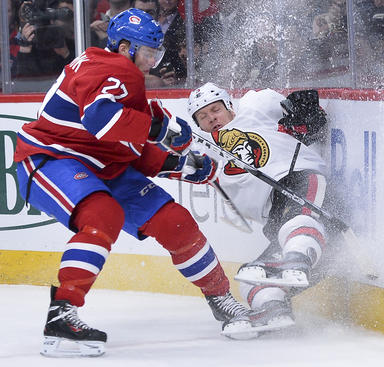 The Montreal Canadiens continued their strong play Wednesday night with a 4-3 shootout victory at home over the Ottawa Senators. Lars Eller scored in both regulation and the shootout, while PK Subban and Brendan Gallagher also scored. Carey Price made 29 saves in regulation and two of three in the shootout to extend the Habs win streak to four games.
Eller opened the scoring seven minutes in by banging a rebound past Robin Lehner. Gabriel Dumont assisted on the goal, his first NHL point in his sixth game.
But the Habs lead only lasted three minutes when Mika Zibanejad fired a hard shot past Price. The first period ended tied 1-1, but the Habs would come back in the second to pull the game away, for at least a short time.
Brendan Gallagher scored a powerplay goal at 6:40 of the second period by firing a hard shot from the right circle and past Lehner. Then at 17:11, Subban scored his goal on the powerplay. The goal was Subban's seventh of the season, the most by any defencemen this season. The Habs were leading 3-1 and looking in control.
Even though Montreal wins a lot of games, they like to let their opponents keep the game close, and that's what happened Wednesday. With less than two seconds to go in the second, Sens captain Daniel Alfredsson fired a shot past Price to make it 3-2.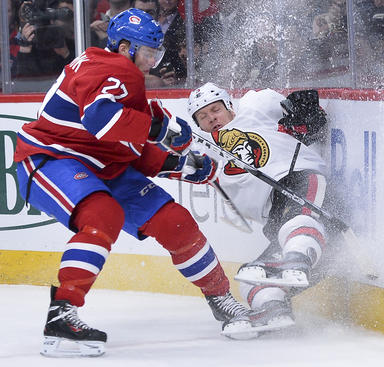 An early goal from Patrick Wiercioch tied the game at 3-3 and Montreal's magical lead had disappeared But the determination that they have shown all season held on and the game went to a shootout.
Alex Galchenyuk opened the shootout with a goal. But Jakob Silfverberg came back to score to tie it 1-1. When Lars Eller came back and made a great move on Lehner to give the Habs a 2-1 lead, Price shut the door on Kyle Turris to win the game.
Montreal continues their slow week when they travel to the garden state to face the New Jersey Devils on Saturday.