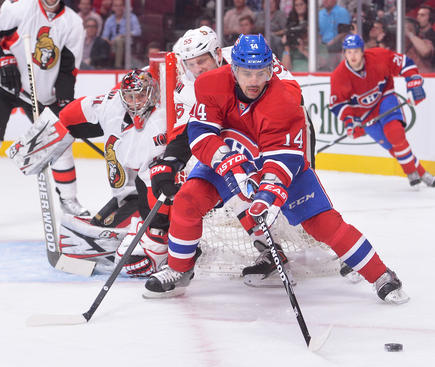 The Montreal Canadiens bounced back in game two against the Ottawa Senators and were able to salvage a 3-1 win to tie the series at one game a piece. Ryan White, Brendan Gallagher and Michael Ryder scored for the Habs, against a goalie in Craig Anderson who still dominated for most of the game. Only this time, Anderson met his match in Carey Price, who had a very solid game with 29 saves.
There were a lot of emotions entering this game, after the first game Thursday saw Habs forward Lars Eller go down injured. Eric Gryba, who threw the hit, was suspended for two games earlier Friday but both coaches and players were jabbing each other in the media.
"I thought player 61, if I'm Eller, I'm mad at player 61 whoever he is," Ottawa coach Paul MacLean said after Thursday's game. "Because he passed me the puck in the middle of the rink when I wasn't looking and that's always been a dangerous place."
After Friday's game, Michel Therrien responded to MacLean's comments.
"It was not about the hit. The NHL dealt with it. It was about the comment, the lack of respect," Therrien said. "That was the reason why I was upset, not only me but everyone involved. I didn't comment on the hit, I let the NHL do what they had to do. I followed the rules, but when I read the comment this morning I was pretty upset."
"By the way, number 61 is Raphael Diaz."
Montreal were also without forwards Max Pacioretty and Brian Gionta to undisclosed injuries. But PK Subban said that didn't change the game plan.
"I think our coach sent the message that no matter who's in the lineup, it's about our attitude," Subban said. "I think we had a great attitude today. We went out there we executed, we did what we had to do."
Gallagher agreed.
"Everybody was trying to pick up the slack," he said. "You're not going to replace those guys but everyone can do their part to help out."
Therrien brought in forwards Colby Armstrong, Jeff Halpern and Gabriel Dumont to fill the holes and was very happy with their play.
"We got some experienced guys; Halpern and Armstrong are good veterans for us," Therrien said. "We've got some depth and we were using it tonight."
Therrien said his goal for the team was to play the same way they did Thursday night. In the opening game, they fired 50 shots on Anderson and dominated for long stretches of the game. He chalked their play and ability to recover quickly up to the strong character of the team.
"It's character, which is what we showed tonight and we showed a lot of character all season long," Therrien said. "We surprised people when we started the year, everybody thought we'd be down about what happened last night and with the lost of the important players. You need character for that and again they showed lots of character."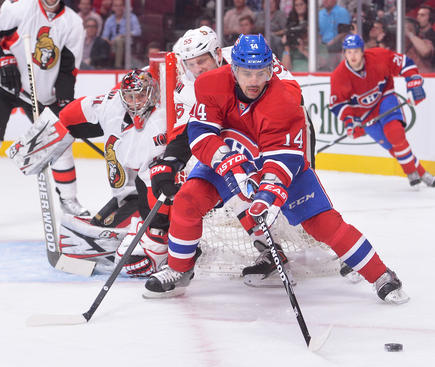 All four of the goals came in the second period and the Habs had to get lucky to break through Anderson. Erik Karlsson's weak back hand pass was intercepted by Ryan White in front of the Sens goal and he poked it through Anderson's five-hole to give the Habs the lead.
"I was just trying to impose my will out there," White said. "We want to play like that all the time and have to make sure we do that in game three."
Gallagher scored the second goal, his second of the series. After a quick pass from Alex Galchenyuk, Gallagher found himself with a wide open net and made no mistake.
"I was going to the net and I wanted to shoot at first," Galchenyuk said. "Then I saw Gally in front of the net there and I gave it to him and he made no mistake."
"That's my game, I'm trying to make good things happen."
Milan Michalek was the only Sen to beat Price Friday when he tipped a Chris Phillips shot in. But just as the period ended, Michael Ryder restored the Habs two goal lead for good.
"The bounces went our way today," Subban said. "As a unit out there, I thought we did a good job moving the puck."
Price not only made saves but also lost some teeth. The boot of Jarred Tinordi's skate came up and clocked him in the mask, knocking two teeth out. But Price just skated to the bench, gave them to the trainer and went back to stopping pucks.
"Did he do that?" Gallagher said after the game. "That's pretty cool. Playoff hockey."
"I'll lose all of them to win, for sure," Price said. "It's the playoffs, you can't' dwell on the last game and get ready for the next one."
The teams finally get a day off Saturday, but will be back in action Sunday night in Ottawa for game three.