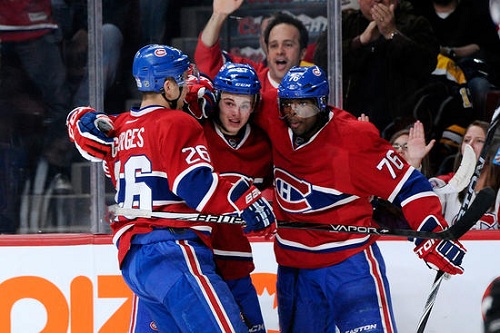 The Montreal Canadiens continued to strengthen their lead in the tough Northeast Division with a 2-1 win over the Boston Bruins. The win puts Montreal three points ahead of Boston for the division lead, with only 10 games left in this short season. Alex Galchenyuk and Michael Ryder scored for the Habs while Dan Paille responded for the Bruins.
PK Subban picked up two assists to extend his lead in points by a defenceman to four points. After missing the first six games of the season due to contract talks, Subban has come out swinging, picking up 32 points in 32 games.
Galchenyuk extended his personal point streak to three games with his fifth goal of the season. He got lucky when he threw a puck from behind the Bruins net that redirected off of Matt Bartkowski's skate into the net. But after the game, Galchenyuk credited his linemates Brandon Prust and Lars Eller for his success.
"Every game we go out there to work hard and create momentum for the team," Galchenyuk said. "And I think we did a good job tonight."
Eller agreed with Galchenyuk
"Sometimes you just get that instant chemistry," he said. "We try to use each other to our strengths and we'll keep doing that."
Coach Michel Therrien also thought the Eller, Prust and Galchenyuk line played well.
"They work hard, they skate hard and they mange the puck really well," said Therrien. "It's really important for us to have depth with our lines and they set the tone for the game tonight."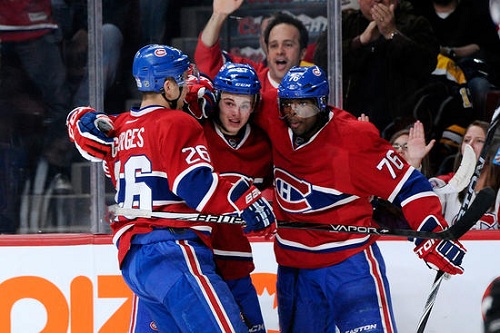 Eller got into some trouble late in the game,giving the Bruins their only powerplay with less than a minute left. He was called for holding (and taking down) Zdeno Chara, which is no small feat.
But Boston didn't get any scoring chances on their six-on-four and Eller said afterwards that he was "pretty relieved" when the buzzer went to end the game.
Therrien summed up how his team is able to find success after the game.
"We played the way we wanted to play, which to me is important," he said. "My focus has always been on how we play and the guys did a fantastic time again tonight. I am really proud of those guys."
Carey Price made 26 saves for the win and the only go he let in was on a tip from Paille that he didn't see at all.
"It's obviously two big [points] and they're a division rival that we are battling for the top spot," Price said. "The playoffs are coming up soon and we are just trying to set the tempo for the rest of the season."
"You could see the goals, they were playoff type goals, three pretty much lucky goals," Price added. "It's a tough way to win but we'll take it."
The Habs lost defenceman Alexei Emelin early after he collided with Bruins forward Milan Lucic. Therrien only said he was out with a lower body injury but Price emphasized the importance of having Emelin in the lineup.
"It's an unfortunate break, he's a big part of our defence corps," Price said.
As the playoffs approach, Galchenyuk and the Habs are getting ready for a long run. After finishing last in the conference last season, Montreal is poised to clinch a playoff birth within the week. And there is a good chance they will be facing the Bruins on their way to the Cup.
"It's a big rivalry and it always feels like the playoffs," Galchenyuk said. "But I've never played in the playoffs so I don't know."
After playing five games in eight days, the Habs will get a couple days off before they play again. Their next game is on Tuesday when the Washington Capitals come to town.
Love Reading About Hockey?

Subscribe to keep up-to-date with the latest and most interesting hockey news!
| | |
| --- | --- |
| | We hate spam just as much as you |