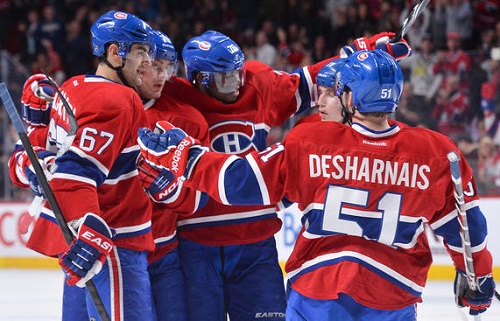 The Montreal Canadiens love to win and they extended their current win streak (now at three games) with a 4-1 win over the Carolina Hurricanes. Max Pacioretty scored twice while Jeff Halpern and Andrei Markov also picked up goals. The win gives Montreal 51 points and puts them three points ahead of division rival the Boston Bruins.
Carey Price played in his 300th NHL game and got his 18th win of the season. He only had to make 18 saves, but coach Michel Therrien said he played really well.
"Carey made some key saves," Therrien said. "We only allowed 19 shots but there were some quality scoring chances and certainly Carey was really good again tonight."
"We've got a good group of guys up front that really grind teams down," Price said. "It's all about chemistry and I think tonight all the guys were on the same page."
Pacioretty and his line mates David Desharnais and Brendan Gallagher came out flying for the second game in a row. On Saturday against the New York Rangers, they combined for two points and eight shots, including a goal from Gallagher.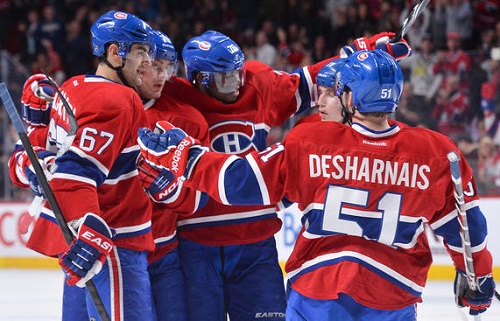 "That line with David, Patch and Gallagher had a lot of jump tonight," Therrien said. "They were a tough line to contain tonight and I could see their intensity and it's a good sign."
"Different people step up for this team and I guess tonight it was my turn," Pacioretty said. "Hopefully I can keep it going."
Nathan Beaulieu, playing in his second career game, picked up his first career point when he assisted Halpern on his goal.
"It's [certainly] icing on the cake to be a part of this hockey club with everyone rolling," Beaulieu said. "It's a lot of fun."
The goal was Halpern's first since Feb. 25 2012. He picked up a rebound off of Beaulieu's shot and then fired a wrist shot past Justin Peters.
"I didn't know what to do, it's been a while," Halpern said with a laugh. "It felt good for sure."
Colby Armstrong collided with Hurricanes forward Patrick Dwyer early in the third. He was down for a while and left the game favouring his right leg. After the game, Therrien said it was a lower body injury but did not provide any more information.
The Habs road to the playoffs continues on Wednesday when they head to Pennsylvania to take on the Philadelphia Flyers.