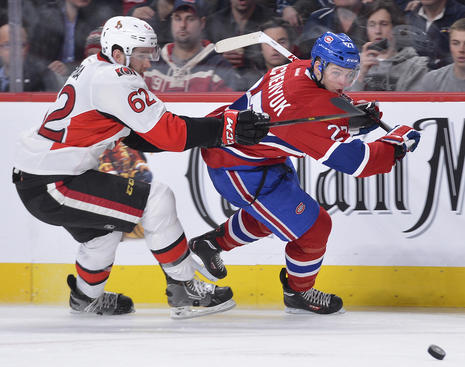 The Montreal Canadiens went from last to first to win the Northeast division and will now face the seventh seeded Ottawa Senators in the playoffs. Ottawa helped the Canadiens clinch the division when they beat the Boston Bruins 4-2 on Sunday, but there will be no "merci" on Thursday when these teams open their series.
Coming into this shortened season, not much was expected from Montreal. After finishing with an invisible 31-35-16 record last year and plenty of new faces in the lineup, the Habs were expected to maybe contend for eighth in the conference. But that changed early when they came out flying, winning six of their first eight games and getting points in 11 straight in February.
"We've worked hard to put ourselves in this position and now we are going to work hard to keep playing," defenceman PK Subban said. "We want to play as long as we can."
Subban finished the season with 38 points, tied for most in the league among defencemen. He also had 11 goals which was good for second best. And this came after missing the first two weeks because of a contract dispute. But that is far behind him now.
Head Coach Michel Therrien credited Subban for his impressive year on the back end.
"He matured, he grew as a player. The way I see it, there is still work to be done and that is a good thing," Therrien said. "A lot of credit goes to him, he's been a dominate defenceman this year. He improved because of his maturity"
Subban will be expected to go toe-to-toe with another young star defenceman on the Sens. Erik Karlsson missed all but 17 games with a torn Achilles but still managed to pick up six goals and eight assists.
Both of these young players will be called upon to lead their team's offensive push. And whichever one is successful will likely be on the winning side of this series. But Subban isn't phased by that pressure.
"It's a cool atmosphere to be in," he said. "There is going to be a lot of energy in both [arenas]."
Arguably the biggest key in the series will be goaltending. Carey Price for the Habs and Craig Anderson for Ottawa both started the season strong but couldn't keep the momentum going all year.
Anderson missed 18 games this year with an ankle injury but in his 24 starts, he won 12 and took two more to overtime. His 0.941 save percentage and 1.69 goals against average both led the league and he would be in the Vezina race if he hadn't gotten hurt.
Price performed well for the Habs this season, picking up 21 wins in 39 games. However, recently he has been in a slump, giving up two or more goals in his last eight games, with only two wins.
"It's what you play for all season long," Price said. "It's the most fun time to play all year, at least you give yourself a chance."
Neither of these goalies have a ton of playoff experience. Price has a slight advantage, having eight playoff wins to Anderson's five. But Price is confident in the matchup.
"I'm very proud of this team and what we've accomplished," Price said. "No one really gave us a chance going into this season and we proved a lot of people wrong. Hopefully we can do that again in the playoffs."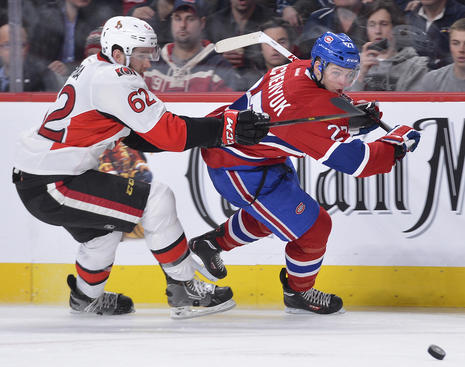 Even with his recent struggles, Price received high praise from Coach Therrien Monday.
"I really like the way he played the last two games. His confidence is there, his work ethic is there, his concentration is there," Therrien said. "I've got no doubt about Carey Price. He's our best player and he needs to be our best player when the playoffs start."
A big part of the playoffs is the playoff beards and Brandon Prust had already started trashing talking his teammates about theirs.
"I want to see Gio [Brian Gionta] grow his, he's always got that goatee and I want to see if he can grow anything else on his face," Prust said with a laugh. "But I definitely think I'm going to win."
Prust will be expected to provide much of the girt the team was missing last year. He was part of the New York Rangers team that went to the third round last season and brings some experience to the table.
"I think the match up is good," he said. "Experience always helps for sure in the playoffs but I think our young guys will figure it out."
Both teams saw a rush of young blood enter their lineup this year. The Habs have 16 players under the age of 30 who could play, including Price and Subban, as well as rookie sensations Brendan Gallagher and Alex Galchenyuk. These two young forwards are leading the youth movement in Montreal and took the league by storm this season.
"I think playoffs are the second season and you have to change your mindset, go out there and work hard," Galchenyuk, who had 27 points this year, said. "You can't start about the series before it started and we'll just see what happens."
I'm excited and anxious, ready to get going," fellow rookie Jarred Tinordi said. "I'm trying to stay calm too because this week is important for preparation and getting ready on Thursday."
Prust, a grizzled veteran at age 29, had some advice for the rookies.
"If their not ready after the first game, I'll kick them in the ass for the second one," he said with a laugh.
This series starts off later than most, with the first game not until Thursday. Therrien thinks the extra rest will be good for his team, but also good for the Sens.
"It works for both teams," he said. "I'm convinced they will be ready to win Thursday night, but we're going to be ready too."