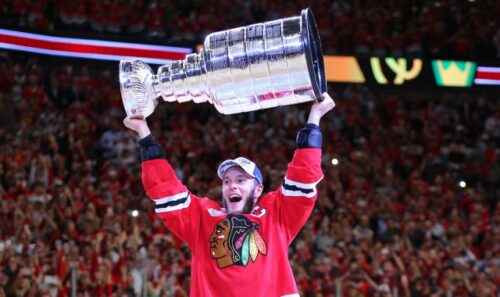 Jonathan Toews, the captain of the Chicago Blackhawks, is getting close to his destination. Some claim that the veteran forward's career is already over because he has only appeared in 46 games this year and has been sidelined since January 28 due to COVID and chronic immune response syndrome, which also kept him out of action for the entire 2021–22 season.
Toews was said to be "seriously considering retiring after the season" in a recent story, but it appears that he may have already played his final game with the Blackhawks.
Toews hasn't taken the initiative to get back on the ice yet, according to an update from head coach Luke Richardson earlier this week, despite being around the team and working out. Returning to the ice is hardly a certain considering that there are just 11 games left in the remaining stretch.
"It has been really challenging to play through these symptoms," Toews said in the statement. "In the last few weeks, it has reached the point where I had no choice but to step back and concentrate on getting healthy. I am thankful for the patience and support of my teammates, the coaching staff and the entire Blackhawks organization."
The former third-overall pick, who has played his whole career with Chicago, released the following statement on Feb. 19 after declaring his intention to stay with the Blackhawks.
A statement from Captain Jonathan Toews ❤️ pic.twitter.com/tn7CP57bQN

— Chicago Blackhawks (@NHLBlackhawks) February 19, 2023
Earlier in the season, the Hawks had interest from other clubs regarding acquiring Toews, but it all came to an end when he was sidelined for health reasons before making a public declaration.
The Hawks made "preparations" to honor Toews if his plans to retire after the season are verified, feeling as though it might have been his final game with the team. That might occur on April 13 during the team's final home game of the season versus Philadelphia.
Toews' career may be over, but there is no doubt that he will be inducted into the Hockey Hall of Fame very soon. He has 1,060 regular-season NHL games under his belt and has tallied 371 goals and 509 assists for 880 total points. He guided the Blackhawks to three Stanley Cup victories, received the Frank J. Selke Trophy in 2013, the Mark Messier NHL Leadership Award in 2015, and the Conn Smythe as Playoff MVP in 2010. He also won two gold medals with the Canadian Olympic teams in 2010 and 2014.
And everyone is aware that he will be remembered as one of the greatest Blackhawks in team history.