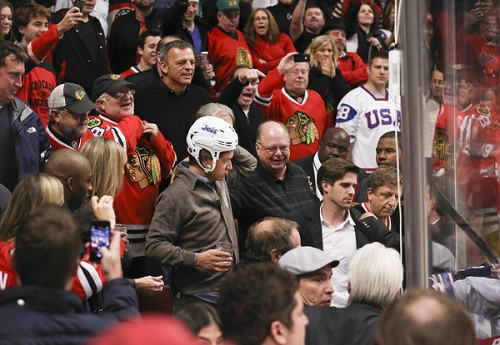 The Winnipeg Jets are looking to find a way to get their first win over defending Stanley Cup Champions, Chicago Blackhawks, but encouraging fans to wear helmets to mock Adam Pardy's treatment in the Windy City isn't part of it.
When the Jets visited Chicago Nov. 6, Winnipeg defenceman Adam Pardy was checked hard into the boards, dislodging the glass. While Pardy was pinned to the boards with a crowd of players after the check, a fan reached out and snatched off Pardy's helmet and another dumped a beer on his head.
Jets co-owner and True North chairman Mark Chipman said today that fans will not be allowed to wear or bring a helmet into the arena Thursday night whether or not they intend to participate in the media-initiated "#pardyhelmet" campaign.
There was a subsequent apology from Blackhawks president John McDonough and GM Stan Bowman, and Chipman said today that laudable reaction, along with the professional way Pardy dealt with the matter, must not be diminished.
"The fan that was involved has shown a great deal of remorse," Chipman said today at the MTS Centre after the Jets released a statement on the matter. "He has contacted our organization, he's contacted Adam Pardy, he's made a very sincere apology. He's made an unsolicited, unnecessary but very much appreciated donation to our Foundation, which he acknowledges doesn't excuse in any way what he did. But I judge his apology to be very sincere.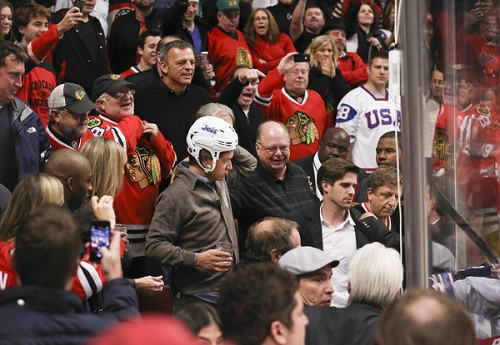 "We all make mistakes and I just don't think it's appropriate to rub people's noses in it or in any way participate in something that would promote the initial error that occurred and diminish the way Adam conducted himself and the way the Blackhawks conducted themselves."
Chipman also said he hopes fans who previously have dressed in costumes or gear that included a helmet will understand this "one-off."
"This isn't so much a way to thwart people's attempt to show their enthusiasm as it is to get the light off this unfortunate incident that occurred," he said. "It's in the past, and (we want to) move forward.
"We've got a hockey game to play tomorrow night against arguably the best team in the league. That ought to be our focus, not to participate in some stunt, for lack of a better way of expressing it."
Love Reading About Hockey?

Subscribe to keep up-to-date with the latest and most interesting hockey news!
| | |
| --- | --- |
| | We hate spam just as much as you |