Edmonton OIlers
Featured
Here's what Edmonton Oilers' players had to say about Evander Kane in regards to his future in the NHL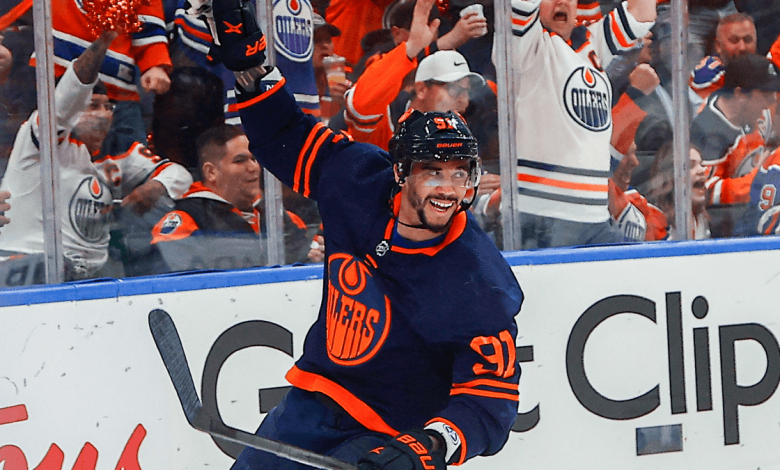 Where? For how long? How much money? Well, that's three tougher questions to answer.
Kane put up 22 goals and 17 assists in 43 regular-season games for the Oilers, while adding 13 goals and four assists in 15 playoff games after signing for the team in January.
Evander Kane's introduction with the Edmonton Oilers couldn't have gone much better than it did aside for of course his one-game suspension in the tail-end of the playoff run. He made Edmonton a vastly better team. He proved to be a winger worthy of slotting onto a line with Connor McDavid. He scored a ton of goals, especially in the playoffs, with the Oilers overshooting most reasonable expectations and reaching the conference finals.
"I'll go back to when I was in a similar but very different situation a few months ago where I had the opportunity to kind of pick where I wanted to go. Edmonton was interested in me and I was interested in them," Kane reflected on his initial Oilers contract at the team's end-of-season media availability. "The way I look at it…you've got two of the best players in the world. You've got a team that wants to win now and is primed to win now."
It was the sort of limited stay that a pending unrestricted free agent dreams of having. Only introduced in late January, he elevated his depressed value significantly, illustrating quite clearly over a short sample that he could help most teams searching for complementary help in their top six.
But of course with Kane, it isn't just a hockey discussion.
This is a player with a problematic past from both the personal and professional perspectives. He is a risk when it comes to building a successful and cohesive hockey team, but more important than that, he's an athlete who needs to be become a better person first.
It is that context which, when assessing his future, points to the conversation both beginning and ending with Edmonton. It seems he's both more and less likely to stick around with the Oilers given the events that preceded this chapter, and the heavy baggage he carries.
He's more likely to stay, primarily because in no other organization will he have more advocates.
Oilers GM Ken Holland reaffirmed his interest in extending the partnership at his end-of-season availability, stating that he'd like to bring Kane back: "I think he had a big impact on our team." It's also pretty clear that McDavid, Leon Draisaitl, and the other influential members of the Oilers roster want him to return, which will most certainly play a role.
"I think me joining… [we] had a great opportunity to win. I'm happy to say that we had some success doing that. I think moving forward, obviously, there's a lot of things that factor into a decision," Kane added about his time in Edmonton.
Oilers forward Zach Hyman, who joined the team last summer on a seven-year deal, says that Kane was a "massive addition."
"I think he revamped the top-six, obviously. He was able to play with anybody there and have success and score big goals. Led the playoffs in goals to date right now. Just a huge part of our team," Hyman said.
Oilers forward Leon Draisaitl called Kane a "great teammate."
"First of all, I think we're very happy with how he came to our team, what he brought to our team, obviously, on the ice. Off the ice he was amazing. He was a great team guy. Put the team first. Helped our team in a big, big way. I think we'd love to have him back… Those guys are hard to come by. Those are the guys you can go on runs with and those are types of guys you're going to win with eventually."
McDavid echoed Draisaitl's statements.
"You saw how he performed in the playoffs," McDavid said. "Those are the types of guys you need."
But what could damage the prospects of a reunion, even more considerably than the red flags that have popped up over the course of his career, is the financial piece.
Kane was a fit for the mildly cap-strapped Oilers because he was willing to sign a low-cost, zero-risk contract through the remainder of the season after the San Jose Sharks stumbled on grounds to terminate his contract.
Given his very serious, and multi-layered financial issues, and now that he's pumped a little bit of value into his career, it seems imperative that Kane takes the most lucrative offer available to him.
Mere months after filing for bankruptcy and being sued by creditors for racking up severe gambling debts, Kane squandered upwards of $22 million dollars in future earnings with the Sharks. On assignment in the American Hockey League after his financial, personal, and professional issues each came to the fore with the Sharks, Kane seemed to provide the organization with what it was looking for when he allegedly broke COVID-19 protocol by traveling from the United States to Canada.
This was grounds to terminate the deal, at least in the eyes of the Sharks, and despite the NHLPA filing a grievance on behalf of the player, the situation didn't prevent Kane from signing with the Oilers and continuing with his career.
It's likely that the Sharks and Kane are headed to some sort of financial settlement despite the steps taken since, which will be a benefit to Kane as he faces such an uncertain financial reality.
However, it's unlikely that he will recoup all that was lost, which means if another team is willing to offer more money, which is possible given the challenges the Oilers face from a team-building standpoint, Kane might have to take it — because he's not in a position to turn it down.
If all things are equal, it does seem like Kane sees the benefit of remaining with the Oilers. He was complimentary of the organization, calling it the best he's played for, and said that his time had even exceeded his own expectations coming in.
However he would warn, putting his situation mildly: "there are so many different variables… there is a lot to sort through."
Kane has done some irreparable damage, but did take steps, professionally-speaking, across a five-month stay with the Oilers.
Kane called the Oilers the "best organization I've played for."
'I've been very happy with my time here," Kane added. "The fans have been phenomenal. The people in the city have been phenomenal… No complaints. Just like everybody else, [I'm] looking forward to what happens."
NHL free agency opens July 13, though Kane is free to renegotiate and re-sign with the Oilers at any time prior to that.
Now it's about assessing risk for both the player and the team, or teams, involved.
And more important than that, hopefully Kane has learned something from the past six months, from his continued plight, and can take more meaningful steps forward as both a professional, and, better yet, as a person.