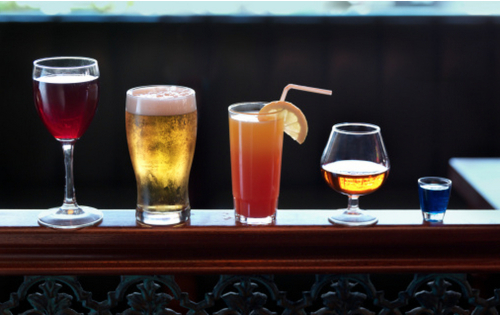 Alcoholic hockey fans, unite! The following article is a collaboration between resident Hooked on Hockey Magazine bartenders Boston Bruins writer Megan Muise and Research Editor Pedro Rengel, in which we answer a quintessentially important question: If you need to get your drink on and honor your favorite team, what would the mix look and taste like? Look no further, as we have got you covered! (Disclaimer: please remember to drink responsibly; don't drink and drive. Also, don't drink and text your ex; it never ends well).
Anaheim Ducks: Presidente Cocktail: 1 1/3 oz. Italian Vermouth (can substitute with Grappa), 1 1/3 oz. Rum, garnish with orange twist. What a better cocktail than this one to celebrate perennial Presidents' Trophy contenders, Anaheim Ducks. With slick flavors to reflect the slick scoring hands of Corey Perry, and plenty of alcoholic content for the physical intensity that the Ducks play with every night, there's no better way to start off this list. Cheers!
Arizona Coyotes: Pina Colada: 2 oz. Light Rum, 1 oz. Dark Rum, 2 oz. Coconut Cream, 3 oz. Pineapple Juice. A staple of the Caribbean vacation industry, a pina colada is an excellent drink to sit poolside and gather your thoughts. Thoughts of relocation, thoughts of city contracts and extending leases; good god, you're thinking too much, drink! Cheers to that one other fan sitting across the arena from you!
Boston Bruins: Three Wise Men: ½ oz. Jack Daniel's, ½ oz. Jim Beam, ½ oz. Jose Cuervo (some iterations substitute Jose Cuervo with Johnnie Walker). This shot is rough to say the least, with the three wise men being symbolic of how the Bruins can beat you with skill, with physicality, or by mentally wearing you down, this drink will rough you up quickly. Double shots whenever the Bruins win by a large margin; amateur drinkers need not apply.
Buffalo Sabres: Mind Eraser: 2 oz. Kahlua, 2 oz. Tonic Water, 2 oz. Vodka. For much of the season so far, the Sabres have been downright terrible; however, the past few weeks, the Sabres have put together a few impressive wins over teams that should have beaten them. Forgetting the struggles past needed a particularly potent potable, and what better than the namesake for all nights that become a blur? Is that a plate of Buffalo wings?
Calgary Flames: Prairie Fire: 1 oz. Tequila Gold, 4 dashes Tabasco (though more is encouraged). Appropriate not only because of the name, the Calgary Flames looked innocent enough (as Tequila often does), but with the added spice of the Tabasco sauce underneath, this shot will ensure that you know exactly what you've drunk, even if you forget the rest.
Carolina Hurricanes: Strawberry Daiquiri: ½ oz. Strawberry Shnapps, 1 oz. Light Rum, 1 oz. Lime Juice, 1 tsp. Powdered Sugar, 1 oz. Strawberries. Let's not joke to ourselves on this one – this is one of the sweetest drinks on the board, much like the Canes (especially with Elf-on-the-Shelf Jeff Skinner hanging around). But when pushed enough, it'll give you one hell of a slap in the face that won't feel too good the morning after. Incoming: Staal Brothers. Grab yourself some serious ibuprofen and get ready for a world of hurt.
Chicago Blackhawks: Adios Motherf*cker: 1 ½ oz. Vodka, ½ oz. Rum, ½ oz. Tequila, ½ oz. Gin, ½ oz. Blue Curacao Liqueur, 2 oz. Sweet and Sour Mix, 2 oz. 7-Up Soda. We'd like to think that this one speaks for itself. It's amazing to that this amount of alcohol wouldn't send you into a coma, but the Hawks might; A few hits here, a few goals there, "Chelsea Dagger" haunting you in your dreams, and the faces of Patrick Kane and Jonathan Toews everywhere you go are enough to make you want to take down about five of these bad boys just to numb the pain. It's okay, we understand.
Colorado Avalanche: Joe Sakic: ½ oz. Avalanche Peppermint Schnapps, ¼ oz. Bacardi 151 Proof Rum, ¼ oz. Sambuca. Named after the legendary Colorado Avalanche captain, what better way to celebrate the mile-high city and its favorite hockey team? Much like the Avalanche this season, Sambuca is a hit or miss. This drink is cool, flavorful, and more feisty than current head coach and former goalie great Patrick Roy.
Columbus Blue Jackets: Doctor Funk: 1 ½ oz. Dark Rum, 1 dash Absinthe, ½ oz. Falernum, ½ oz. Grenadine, ¾ oz. Lime Juice, 1 dash Bitters, Club Soda. Aptly named for both the increasingly lengthy Injury Reserve list, and the fact that this otherwise well put-together team is struggling mightily, expect the surprising punch of the Blue Jackets to come back as the IR diminishes. Myths of absinthe as a hallucinogen reflect the myth of this team being terrible, nonetheless, if you don't watch out, the Blue Jackets (and absinthe) will mess you up.
Dallas Stars: Captain and Coke: 1 ½ oz. Captain Morgan Original Spiced Rum, 4 ½ oz. Coca Cola. Simple, but entirely dangerous. Down a few of these tasty suckers and you'll be in a world of hurt; much like with our boys down in Dallas. Throw on your good ol' cowboy hat, your best pair of cowboy boots (spurs included), and mosey on down to the American Airlines Center with your trusty steed to watch those boys bring the hammer down upon any team that dare challenge them. A perfect drink of choice for those hearty celebratory night, or those in mourning after a heavy beating. It's okay to drown your sorrows every now in again (and by that, we mean every night).
Detroit Red Wings: Dry Martini: 1 2/3 oz. Gin, 1/3 oz. Dry Vermouth. The drink of choice of perennial badass James Bond, it's only suitable that the Detroit Red Wings identify with the ageless super-spy. With a playoff streak of 23 years (coincidentally the same number of Bond films), the Detroit Red Wings, like the Bond franchise, show no signs of slowing down. Add one olive for each Stanley Cup championship the Red Wings accumulated during their streak, and you have a drink as classic as the super spy himself; remember, shaken, not stirred.
Edmonton Oilers: Bloody Mary: 1 oz. Smirnoff No. 21 Vodka, 3 oz. Tomato Juice, 3 Red Hot Sauce, 2 Green Hot Sauce, 1 Dash Worcestershire Sauce, ½ oz. Lemon Juice, 1 Pinch Salt, 1 Pinch Peppers, 1 Stalk Celery. Bloody Marys are those drinks that you see in those cheesy romantic comedies that all of our favorite, unrequited female protagonist's drink at about three in the morning when their man is off and about fooling around with "the other woman" before coming back beaten and broken. That's exactly what Oilers fans do. Every night. Blast "Somebody to Love" in your living room, grab a hairbrush, put on your favorite pair of tighty-whiteys and button down (Tom Cruise style), and get ready for a wild night of chugging down BM's just to repress the heartbreak. What a catch.
Florida Panthers: Mojito: 2 oz. Rum, 2 tsp. Sugar, 1 lime, 4 mint leaves, Soda Water. Fresher than Roberto Luongo's flow, and unintentionally representative of the high Latino population in Florida, this drink is better suited as a fancy lemonade than a cocktail, much like Sunrise, Florida is better suited for sports other than hockey. Furthermore, the humble mojito, if underestimated, will have its minty rum freshness leave you in a very bad place. Arriba!
Los Angeles Kings: Black Velvet: 5 oz. Champagne, 5 oz. Stout beer. What kind of defending Stanley Cup Champions beverage would be complete without the addition of champagne? Pop this bubbly in your Guinness to get an even stronger beverage, as well as a complete meal. This full-bodied beverage will certainly show your high-roller status in the hockey bar, as well as denoting to others that your favorite team's core is still mostly intact. Keep the champagne handy, just in case there's another Stanley Cup ring on the way.
Minnesota Wild: Jack the Ripper: 2 ½ oz. Crown Royal, ¾ oz. Butterscotch Schnapps. Chug one of these for a time wilder than the team called "Wild." With equal parts finesse and grit, both this drink and the Minnesota Wild can, on a nightly basis, surprise anyone who isn't prepared. A simple, two ingredient beverage that takes this otherwise simple drink and elevates it to a contender is also a nod to defenseman and perennial Norris Trophy candidate, Ryan Suter and forward Zach Parise, whose signing a few years ago elevated this club to a consistent playoff team.
Montreal Canadiens: Body Shot: 1 oz. Vodka, 1 Package of Sugar, 1 Lemon/Lime Wedge. Let's not fool ourselves with this one here. The Habs are exactly like that crazy one-night stand you completely regret after taking shot after shot off their stomach and licking salt off their arm (seriously, do you even know where that things been?). At least it seemed like a good idea at the time, but in the morning – along with the raging hangover – all you want to do is forget how dirty you feel and eat dangerous amounts of heart-clogging, grease-soaked food just to make the walk-of-shame home seem worth it. #SpringBreak #Memories
Nashville Predators: Boiler Maker: 1 oz. Jack Daniel's dropped in a schooner of Beer (for maximum effect, mid-bodied lager). It would be an absolute sin to have a drink to represent the Nashville Predators without their very own delicious Sour Mash Whiskey. As simple as their game plan of defense first, a boiler maker is the alcoholic equivalent of being hugged by a cowboy. Ideally, you want to pound this one back faster than a Shea Weber slapshot immediately after dropping your shot of JD.
New Jersey Devils: Cherry Bomb: ½ oz. Vodka, 1 ½ oz Crème De Cacoa, ¾ oz. Grenadine Syrup. We're almost entirely sure this one speaks for itself: Mess with the Devils too much for their liking and get ready to be blasted into another dimension. You'd underestimate it due to the sweet flavor and almost innocent feel, until it essentially blows up in your face and takes the win on the ice, handing you your dignity in a doggy bag to-go.
New York Islanders: Gilligan's Island: 1 oz. Vodka, 1 oz. Peach Schnapps, 3 oz. Orange Juice, 3 oz. Cranberry Juice. Sippin' this one out of a coconut and watching the Islanders literally take the NHL by storm this season will actually make your life better by at least 500%. For Isles fans across the league, paradise is real and in the middle of the upcoming brutal winter of New York. Nothing can stop them now.
New York Rangers: Long Island Iced Tea: 1 Part Vodka, 1 Part Tequila, 1 Part Rum, 1 Part Gin, 1 Part Triple Sec, 1 ½ Parts Sweet and Sour Mix, 1 Splash Coca-Cola. Jeepers. Long Island Iced Tea's are the drink of choice if you want to get knocked out after a few sips, never mind the whole glass. So what if they lost the Cup last year? Do you think that's going to stop them from quite literally knocking you out cold and laying you down in a cab so that you get home in one piece? We don't think so.
Ottawa Senators: Red Death: ½ oz. Vodka, ½ oz. Southern Comfort Peach Liqueur, ½ oz. Amaretto Almond Liqueur, ½ oz. Triple Sec, ½ oz. Sole Gin, ½ oz. Lime Juice, and Orange Juice. It's hard not to almost wet yourself when you see these boys in red come racing down the ice, led by the valiant Erik Karlsson (hair flowing in the icy breeze #covergirl). One-Two punch and you're out with this one, folks. Please, skate responsibly.
Philadelphia Flyers: Irish Car Bomb: 1 pint Guinness, ½ oz. Irish Whiskey, ½ oz. Bailey's Irish Cream. An homage to the Broad Street Bullies, this drink is full-bodied, must be taken quickly, and it doesn't feel good when encountering it. Also reminiscent of how the Flyers must try to move Vinny Lecavalier before he curdles, though the process has already started.
Pittsburgh Penguins: Unleaded: 2 oz. Tequila, 2 oz. Newfoundland Screech, 2 oz. Sobieski Vodka, splash of Coca-Cola. Much like the Pittsburgh Penguins, it's made with the pride of Eastern Canada, and a staple of Russian drinking. Capped off with the signature party alcohol and the standard American soda, this drink is strongly representative of both the power of the Pittsburgh Penguins, and their ability to completely forget about it.
San Jose Sharks: Shark Bite: ¾ oz. Captain Morgan Original Spiced Rum, ¾ oz. Light Rum, ½ oz. Blue Curacao Liqueur, 1 ½ oz. Sweet and Sour Mix, 3 Drops Grenadine Syrup. If there's one thing we are absolutely sure of when we think of the Sharks, it's that they are a rough-and-tough, take no prisoners team. They're not just going to take a bite out of your Cup Run chances, they're going to send you home wishing you never got into the tank in the first place. Caution: Shark Infested Waters. Swim At Own Risk.
St. Louis Blues: Blue Shield: 2 oz. Amaretto, 2 oz. Blue Curacao, 1 oz. Vodka, a splash of 7-Up. This drink is classy, yet rough; refined, but unexpected. All of these qualities are shown by the St. Louis Blues, with emerging marquee talent such as Vladimir Tarasenko, Alex Pietrangelo, and established winner Martin Brodeur between the pipes, showing that at age 42, you can still turn some heads.
Tampa Bay Lightning: Miami Vice: 5 oz. Bacardi 151 Rum, 1 Package Frozen Pina Colada Mix, 1 Package Frozen Daiquiri Mix. Tampa Bay Lighting? Did you mean Steve Stamkos? This rough and tough brute is more than willing to send you down to the pound with you clutching your dignity to your chest after he scores hat trick after hat trick on your goalie just because. The Lightning isn't cool, they're ice cold.
Toronto Maple Leafs: Polar Bear: ½ oz. Vodka, ½ oz. White Crème de Menthe. As an homage to Toronto Maple Leafs mascot, Carlton the Bear, this drink is icy cold and minty fresh; it can represent the Leafs offence when they are clicking, with Phil Kessel and James van Reimsdyk's uncanny ability to remain poised to slot the puck in the back of the net when they're on; or it can be symbolic of Dion Phaneuf's glacial speed to cover the puck carrier when the Leafs are not on.
Vancouver Canucks: Sex on the Beach: 1 ½ oz. Vodka, ½ oz. Peach Schnapps, 2 oz. Cranberry Juice, 2 oz. Orange Juice. The Canucks are probably the reason for this drink in the first place; seemed like a good idea at first before ending so, so badly. They taste so sweet but after a few too many, you end up regretting all of your life decisions and start questioning all of your motives. We've all been there, it's okay. Editor's notes: also, its namesake seems like a good time, before finding that there is sand… everywhere.
Washington Capitals: White Russian: 2 oz. Vodka, 1 oz. Coffee Liqueur, Light Cream. 1, 2, 3, knocked out. Not necessarily in honor of captain Alex Ovechkin, your hangover may end up twice as bad after you've heard the Caps goal song at least six times in one night and chugged down one of these sweet numbing agents every single time it rang through your ears. Life sucks, and then you die.
Winnipeg Jets: Jello Shots: 1 Package Watermelon Jell-O, 1 Cup-Boiling Water, 1 Cup Malibu Coconut Rum. The quintessential college party beverage, everyone is on board with Jell-O shots, much like the idea of bringing the Jets back to Winnipeg. Jell-O shots are your go-to alcoholic choice when there's nothing else left: Just like The Jets! They make you feel like you're on top of the world after a few before you start wondering what the hell you're doing with yourself, drunk text that ex you never got over, and put on The Notebook just so that you feel something.
Find us on twitter at @HOH_Magazine
Pedro can occasionally tweet at @rengelpe
Megan can be found tweeting at @megann_40
Love Reading About Hockey?

Subscribe to keep up-to-date with the latest and most interesting hockey news!
| | |
| --- | --- |
| | We hate spam just as much as you |