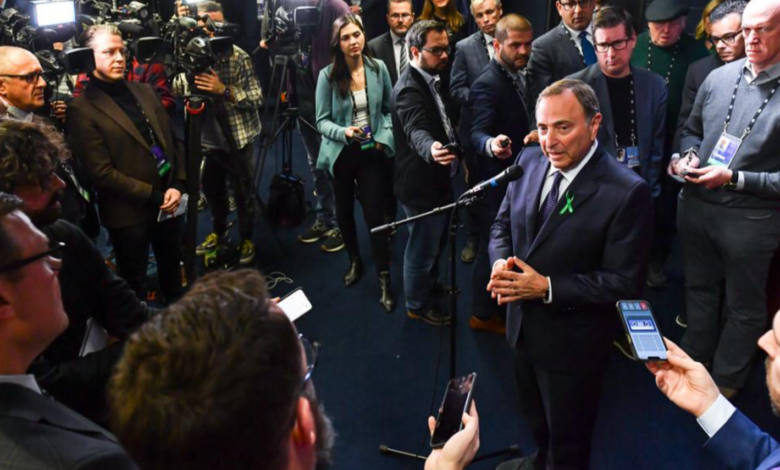 Whatever sports fans may think—and it seems a sizable portion of them can't stand him—NHL Commissioner Gary Bettman is still regarded as one of the finest in the business. The 70-year-old has received the Sports Business Journal's Lifetime Achievement Award. As you can expect, the response from fans has been overwhelmingly negative.
SBJ said Bettman has used his talent to turn the NHL into a business powerhouse.
"The longest-serving commissioner in sports history, Bettman has spent 30 years atop the NHL using his many talents and his forceful powers of persuasion to build the league into a modern business powerhouse"
Gary Bettman is the longest-serving commissioner in sports history, serving 30 years with the @NHL🥂

In this week's #SBJ, @Bill_KingSBJ profiles this year's Lifetime Achievement Award recipient, Gary Bettman: https://t.co/5g7ahySwlx pic.twitter.com/JSZH55YTuS

— Sports Business Journal (@SBJ) May 16, 2023
Following the announcement, a number of fans emphasized Bettman's priority for money over everything else, including the game's traditional elements.
Money over integrity award. Bettman has ripped the heart out of our game for profit.

— ian patterson (@ipatt91) May 16, 2023
Just shows, not very well received and terrible at your job. But if you're making the old guard money-your safe. Says allot about the NHL owners.

— Jack Hammer (@CrownedHead81) May 16, 2023
He's garbage

My two biggest issues with him:

No care for player safety

NHL has horrendous scheduling

— EVIL CALE MAKAR (@DangerJonez21) May 16, 2023
Ripped the 1st rd draft pick away from the Ducks with behind-the-door shenanigans twice. Won't let go of his failing pet project in Arizona. Or let Quebec City get back in the league.

— Kevin (@oriolesfan833) May 16, 2023
If anyone thinks the NHL might be looking to make a change, Boston Bruins owner Jeremy Jacobs, who pre-dates Bettman in the NHL, made it clear in the article that he has a lot of support, and it's because he prioritized profits.
"The game today is a business. The game when he came in was not. That's the biggest thing I can say for him. We had problems that would have closed us down. And the game today is very viable and the [franchise] values have gone up many, many fold. We have a going business today. We did not have one then."