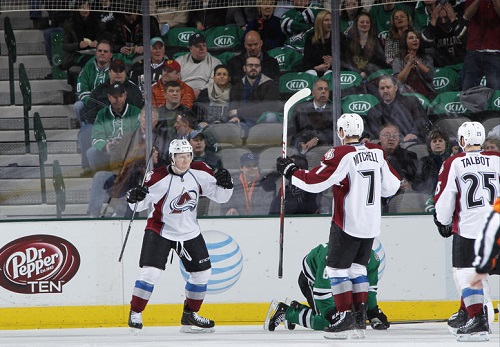 When the Colorado Avalanche won the lottery giving them the first overall draft pick, weathered fans found new excitement in the rebuilding team. When the Avs overlooked defenseman Seth Jones, many of the excited fans became skeptical of the intentions of the organization.
Seth Jones seemed like a no-brainer. The Avs biggest issue on the ice was the consistent lack of defense, despite individually talented players such as Erik Johnson. Also, Seth Jones had ties to Denver as his dad played for the Denver Nuggets. When the Avs brought Adam Foote back as a defensive consultant, it seemed like the team was getting serious about fixing defensive issues. Come draft day, that didn't seem like it was the case.
The Nashville Predators eventually picked Seth Jones fourth overall, after the Avalanche had picked forward Nathan MacKinnon, a then 17-year old from Nova Scotia.
While playing juniors for the Halifax Mooseheads, he proved himself as an intense player, leading the Mooseheads to their first Memorial Cup championship in 2013, as well as also being named the Most Valuable Player of the 2013 tournament.
MacKinnon made his NHL debut against the Anaheim Ducks on Oct 2, 2013 as the youngest Avalanche player ever to dress in the NHL. As the youngest player, he racked up two assists. Not two weeks later, we saw the youngster score his first NHL goal against the Carolina Hurricanes.
His stellar start never slowed down, with him currently in the top five for points (34 after 51 games) with the Avalanche, but also leading all NHL rookies in points and goals.
With his explosive speed, shot precision and readiness as a team player, we're seeing what we saw just two seasons ago with now Captain Gabriel Landeskog when he won the Calder.
While differentiating himself from other NHL players at an incredibly young age, he's also proven himself as an up-and-coming leader for the Avalanche.
As an 18-year old rookie, MacKinnon has been a key element of a franchise that's starting a new chapter. All of these characteristics are that of a Calder winner.
With high hopes that he'll bring home the Calder at the end of the season, Avs fans are hoping that's not the only hardware that he's going to be bringing home.
Love Reading About Hockey?

Subscribe to keep up-to-date with the latest and most interesting hockey news!
| | |
| --- | --- |
| | We hate spam just as much as you |