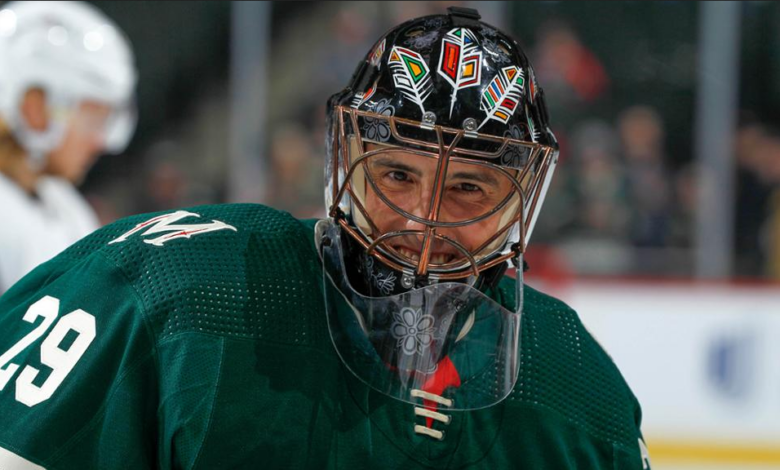 Marc-Andre Fleury of the Minnesota Wild has established himself as the best prankster in NHL history. So much so that Joe Smith of the Athletic wrote an entire article about the goalie's best pranks. While fans have heard about some of the beloved goalie's best jokes, one in the article stands out because it has rarely been shared with the public before.
It's also epic.
Former players and coaches told Smith that Fleury played matchmaker by pulling a hilarious prank on one of the trainers using the Tinder app. Rich Tocchet, then an assistant coach in Pittsburgh and now the head coach of the Vancouver Canucks, revealed how Fleury obtained one of the trainers' phones only to download Tinder and fake message a woman.
"Tocchet recalls Fleury's fake message: "'I'm (a trainer) for the Penguins, we won the Cup last year, if you want to come to the game,' That was the long and short of it.
"(Fleury) got her front-row seats, club seats. He rolled out the red carpet for her. They were packing the bus up, and the girl was with the families in that section and waiting. So (the trainer) walks by her and has no clue. She's like, 'Do I give him a hug or say hi?' He was like, 'What is this girl doing?' That was all Flower! But they ended up dating for a couple months, so the story turned out really good."
Fleury explained how he obtained the trainer's phone during his spare time and was relieved that the staff member got a date out of it.
The article recaps the best pranks by Flower, but this one, is quite hard to beat in my book.
"He's a mastermind."
Marc-Andre Fleury is a future Hall of Famer. But he's also the #NHL's biggest prankster. Our behind the scenes look at his best ones, from fake dates to toilet hijinks. Through the eyes of victims + Fleury himself #mnwild #LetsGoPens https://t.co/jD9FpYoMzC

— Joe Smith (@JoeSmithNHL) April 5, 2023
Fleury pulled another prank on Wednesday, because no birthday is safe with Flower:
No birthday is safe with 🌸 #mnwild pic.twitter.com/iI054eKs41

— x – Minnesota Wild (@mnwild) April 5, 2023