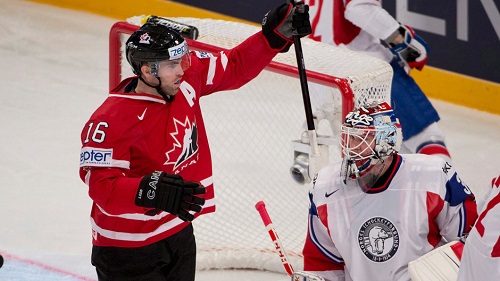 With the first hockey game of the 2014 Sochi Olympic Games a little under two months away, nations are set to release their rosters very soon. How many Jets could we see represent their country come February?
Andrew Ladd was the sole Jet to be invited to Canada's camp in July, and he stands as a long shot to make the team. Ladd's only chance to make the team is as a 4th line energy player, as Canada clearly has enough offensive talent for Ladd not to be needed in the top 9. Other notable Canadians on the Jets include Bryan Little and Evander Kane, but despite Little's production and Kane's bright future, don't expect either player to suit up for Canada this February.
Just south of the border, there are a few more Jets invited to USA's camp. Blake Wheeler, Zach Bogosian, Dustin Byfuglien, and Jacob Trouba all attended the U.S. Men's National Team Orientation Camp in August. Realistically, only Byfuglien and Wheeler stand a chance at making the Olympic team, but neither are close to guarantees. Wheeler has much competition along the wings, and will likely be competing with the likes of T.J. Oshie (Blues), Dustin Brown (Kings), Kyle Okposo (Islanders), and Ryan Callahan (Rangers) for the last few spots on the team. The big international-sized ice hurts Byfuglien's chance at making the team, but his offensive instincts may help sneak him onto the team.
Ondrej Pavelec seems a lock to make the Czech Republic team, helped by the injury to Tomas Vokoun, while winger Michael Frolik has a fairly good chance at cracking the team. Pavelec's main competition in between the pipes is Washington Capitals goaltender Michael Neuvirth, and KHL goaltender, Alexander Salak. Pavelec is not the Jets' best player, but remains their most realistic representative for hitting the ice at Sochi.
Note: Tobias Enstrom (Sweden) has stated that he will not participate in the Sochi Olympics, choosing to prioritize the Jets over the Olympics.
The Jets will not be strongly represented at Sochi, especially not to the powerhouses such as Canada, US, Sweden, and Russia. However, look forward to a few Jets bearing their country's flag on their chest come February.
Love Reading About Hockey?

Subscribe to keep up-to-date with the latest and most interesting hockey news!
| | |
| --- | --- |
| | We hate spam just as much as you |