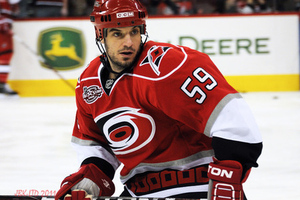 Let's face it. Last season was a huge disappointment for the Carolina Hurricanes. After getting a scorching hot start out of the gate and competing with some of the best teams in the NHL, the wheels came off. Injuries, lack of depth, and a patch-work blue line all contributed to the downfall that was the second half of the 48-game truncated season. However, the poor finish to the 2013 season may have been a blessing in disguise, as the Hurricanes are set to pick 5th overall in tomorrow's NHL Entry Draft, in what's being called the deepest draft since 2003. With that high of a pick, the Hurricanes are assured to either get an impact player who is NHL ready now, or they have the ability to trade that pick for some serious defensive help.
While the team prepares to select a difference maker tomorrow afternoon, General Manager Jim Rutherford already has some key decisions to make about this year's crop of unrestricted free agents. Several players who have been staples on the team for several years are up for contract renewal, and if Rutherford's comments are any indication, the team is planning on going in a completely different direction. Carolina's UFAs are defensemen Joe Corvo, Marc-Andre Bergeron, and Bobby Sanguinetti, forwards Tim Brent and fan favorite Chad LaRose, and goaltender Dan Ellis.
In his end-of-the-season press conference, Rutherford indicated that all the free agents would likely become UFAs by the July 5th deadline, and that the team would only be looking to sign a minimum of two of the six names listed above, if that at all. While some of the pending UFAs haven't been with the team for an extended period of time (Bergeron, Ellis), some of the players that won't be back next season have been with the team for several years. Corvo has had three separate stints with on the Hurricanes' blue line, and while his offensive production is still present, his speed and defensive prowess is on the decline. Tim Brent has been a serviceable 4th line center/powerplay specialist for several years, but with the myriad of Charlotte Checkers in the mix for the 4th line role, Brent has become expendable.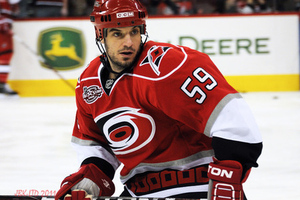 LaRose is the hot button topic with fans. Here in Carolina, LaRose is either loved or hated, and there's not much middle ground. LaRose's hustle and great work ethic has been a staple for the team; however, after posting a career-low 4 points in 29 games last season. His 1.5 million-dollar contract is hardly worth the production he showed last season. LaRose also skipped his exit interview after the season, which understandably upset Rutherford.
Dan Ellis stood in admirably for Cam Ward after Ward was injured in the middle of the season. The Ward/Ellis tandem was proving to be very tough early on, but after the team had to rely on Ellis to carry the load, things began to fall apart. He played through a couple of injuries, and the defense in front of him left him out to dry several times. The Canes will probably let Ellis get to free agency and see what else is out there in the role for back-up goaltending, but I wouldn't be surprised if the team brought Ellis back on a 1-year contract to mind the net for about 20-25 games next season.
With so many UFAs potentially leaving, there is cap space for the Hurricanes to sign some grit to add to their bottom six forwards unit. Also, there has been a lot of talk about putting somebody in their top-six on the trade block if it means getting back a top-4 defenseman.
After the draft tomorrow and the free agent deadline of July 5th happens, we should have a better idea of who will be with the Carolina Hurricanes next season. The team has a great core of young talent in place, but they badly need help in a few key areas if they want to compete in the newly-formed "Division D". One thing's for sure, they won't be in the Southleast anymore.