Featured
Los Angeles Kings
Insider Reveals Shocking Details of Jonathan Quick's Disrespectful Treatment by the Kings During Trade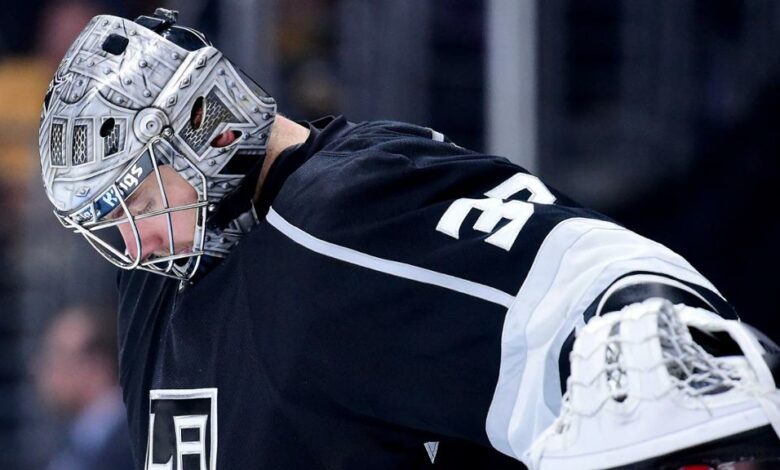 Jonathan Quick was selected by the Los Angeles Kings with the 72nd overall pick in the 2005 NHL Draft. Three years later, Quick made his NHL debut before starting to play regularly with the Kings in 2008-2009. Quick established himself as one of the league's top goalies very soon.
Quick was able to virtually single-handedly guide the Kings to Stanley Cup victories in 2012 and 2014. Quick won the Conn Smythe Trophy in 2012, and since then, he has been a constant in the lineup. That is, until the Kings dealt Quick to the Columbus Blue Jackets a few days before the NHL Trade Deadline.
There is no disputing that Quick's performance had declined over the years, but many had counted on him to play out his contract year with the Kings. Unfortunately, the Kings were forced to change their goalkeeper as a result of Cal Petersen's decline. The Kings' approach to the transaction, however, was the biggest issue.
Some claim that Quick was never even alerted that his name was included in trade rumors prior to the deal's announcement. The following information was published by Elliotte Friedman on his 32 Thoughts Blog today.
"It didn't go unnoticed that Columbus did right by Jonathan Quick. Don't want to make a big deal of it, but it's untrue that his inclusion in the Kings-Blue Jackets trade was reported before Quick was told. Los Angeles planned to inform him upon returning home from Winnipeg, but audibled when informed rumours of the deal were out there. Reaction was seismic among the players and their families. One said he understood why, from a hockey perspective, the Kings felt they had to make the move. But he didn't understand why Quick wasn't given more of a heads-up to prepare for the shock of leaving the only NHL home he wanted to know."
Such actions go a long way toward upsetting players and causing problems in locker rooms. The Vegas Golden Knights eventually acquired Quick, who was immensely popular, but decisions like this will reflect poorly on general manager Rob Blake.
As already noted, this transaction makes sense from a hockey standpoint, and the Kings were forced to make it. But was the approach they took the right one? Absolutely not. Players and agents always keep an eye out for actions like this, so hopefully Blake can take something away from this.