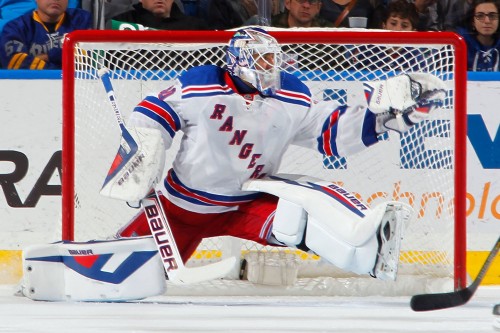 Today could be a historic day for the New York Rangers at Madison Square Garden. The 4PM game against the San Jose Sharks is the one home game during a stretch of six of seven on the road (1-2-0 so far), but it could also mean some editing of the Rangers record books. Last Sunday, Henrik Lundqvist's 3-0 shutout of the Detroit Red Wings was the 49th of his career, tying him with Eddie Giacomin on the franchise's all-time list. Friday's 4-2 victory over the Winnipeg Jets happened to be career victory #301, tying him with Mike Richter. The King will have a chance to own both categories in front of his home crowd in a Sunday matinee.
Being realistic, posting a shutout against San Jose is going to be tough, considering they rank seventh in the league in goals scored per game (2.99). Moving past Richter as the all-time wins leader is more possible. With Lundqvist being on the doorstep of having the two most important franchise goaltending records, the chatter amongst fans will be whether or not the Swedish netminder is truly the best in team history.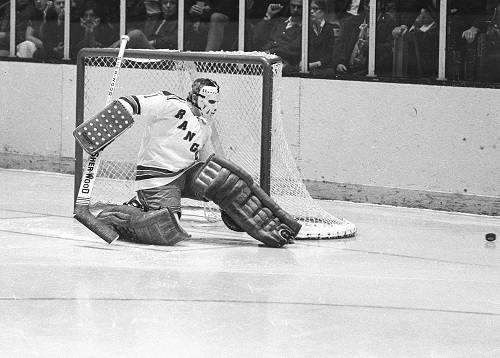 Top Five Goalies in New York Rangers History
5) Gump Worsley – A victim of being a good goalie on some bad teams, often seeing 40-50 shots a night, Gump was behind 204 Ranger victories. He's tied for fifth (with two others) on the NYR shutout list with 24. Lorne John Worsley took home the Calder Trophy in 1952-53 for Rookie of the Year despite playing on the league's worst team. He also finished third in Hart Trophy voting for the league's MVP in 1955-56. Worsley would go on to enjoy four Stanley Cups and two Vezina trophies with the Montreal Canadiens. He was inducted in to the Hockey Hall of Fame in 1980, and was the second-to-last NHL goalie to play without a mask.
4) Dave Kerr – Over seven seasons, Kerr manned the crease for 157 victories as a Ranger. He spent seven seasons with the team (1934-35 through 1940-41), only missing one game in that stretch. He only missed the playoffs once in his career (1935-36), and started every game from 1936 through 1941. He ranks third on the franchise shutout list (40), and is one of only four Rangers goalies to have ever won a Stanley Cup. During the championship year of 1940, Kerr won the Vezina Trophy, was voted NHL All-First Team, and posted a nineteen game unbeaten streak (14-0-5). He shares the franchise record (with Mike Richter) for most playoff shutouts in single year with four.
3) Eddie Giacomin – Giacomin was the second Ranger to ever have his number retired (#1) and was the first goalie to see his jersey go up to the rafters. Giacomin was the Rangers starting goaltender for nine seasons (1966-67 through 1974-75), and led the league in games played four straight seasons (1967-78 through 1970-71). He also led the league in shutouts three times (1967, 1968, 1971), and took home the Vezina Trophy in 1971 (sharing it with Gilles Villemure). He helped the Blueshirts to one Stanley Cup appearance, losing to the Boston Bruins in 1972. One of the more infamous moments in New York Rangers history was when Giacomin was waived to the Detroit Red Wings in 1975. Coincidentally, the Red Wings first game after Giacomin was claimed was at MSG, and the Garden Faithful were not pleased with the move. With the crowd chanting "Ed-die" throughout the game and booing the home team, Detroit skated to victory. Giacomin was inducted in to the Hockey Hall of Fame in 1987.
2) Henrik Lundqvist – Even when he moves in to sole possession of first place on both the wins and shutout list, the one thing Lundqvist is lacking is a Rangers victory parade up the Canyon of Heroes in New York City. That's the only thing missing from his resume though. He was named a finalist for the Vezina in his rookie season despite not being a Calder finalist, and broke the Rangers franchise record for rookie wins in a season with 30. That number would be significant, when Lundqvist became the first goalie in NHL history to post at least thirty wins in his first seven seasons. Including his rookie year, Lundqvist is a five-time Vezina nominee, winning it once in 2011-12. He was also a Hart Trophy finalist and voted to the NHL All-First-Team in the Vezina-winning campaign. He's been to three All-Star games, and is a seven-time team MVP (as voted on by the players).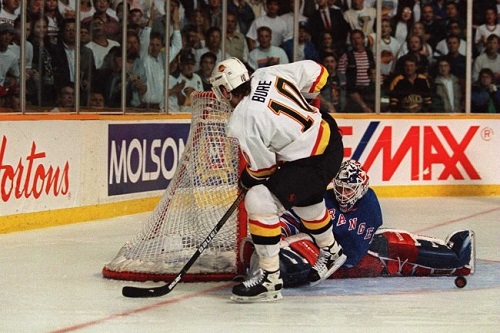 1) Mike Richter – Championships mean something (which is why Kerr is ahead of Worsely), and Richter was the backbone of the 1993-94 Stanley Cup run. He holds the franchise record for games played (by a goalie) with 666, holds the single season franchise record for wins (posting a phenomenal 42-12-6 record in 1993-94), and was a three-time All-Star (winning the AS Game MVP award in 1993-94). While he only boasts one Vezina nomination, he posted a 41-33 career playoff record (Lundqvist is 30-37), was the third Ranger to have his number retired (#35), and was the first Rangers goalie to 300 victories. A string of knee injuries in the late 90s and early 2000s robbed him of some games, and his career was cut short in 2003 due to a skull fracture. He's one of the best big-game goalies of all time, and is still one of the fastest post-to-post netminders I've ever watched.
I know that Lundqvist has been a victim of teams that haven't scored a lot, while Richter was part of some Rangers squads with potent offenses. Lundqivst has been downright dominant in long stretches, but Richter had his stretches of dominance too. For Lundqvist to move to the top spot on this list, he either needs a championship, or he needs to continue at a pace where he'd make any team record almost unreachable.