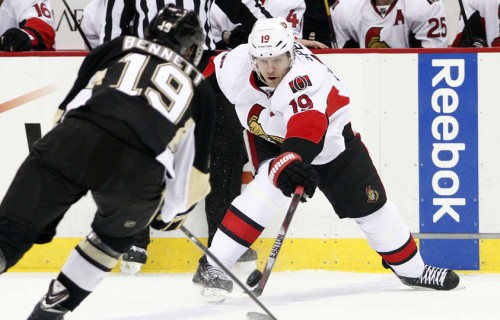 The situation surrounding Jason Spezza's future in Ottawa is heating up — outside of the Senators' front office.
When Ottawa Sun reporter Aedan Helmer tweeted out in search of fan opinion on Monday, there was some backlash.
Milking Spezza narrative:
Or just giving the fans a(nother) forum to voice their views. @6thSens Milking this Spezza narrative to sell newspapers. Good times.

— Aedan Helmer (@OttSunHelmer) April 21, 2014
TMZ?
Naw, it's just asking fans to give their opinions. But you know what they say about opinions. @matlizotte what is this, TMZ??! — Aedan Helmer (@OttSunHelmer) April 21, 2014
And as you can see from above and below, columnist Don Brennan and reporter Bruce Garrioch also received some criticism from fans with one accusing them of "running people out of town".
@SunDoniB @SunGarrioch @jordan_miller13 @ihatebettman @ian_mendes it's what they do. Run people out of town.

— Ryan Quinn (@rquinner) April 21, 2014
For the most part, the Sun network in general gets a lot of flack for being tabloid-ish and 'out there'.  But what happened here, I believe, sprouted from a misunderstanding of  basic journalistic duty. The job of a journalist is not to caudal whatever organization it covers (as seen with the treatment Rob Ford gets on a daily basis in Toronto). Their primary responsibility is to be a watchdog, in this case, for dealings involving the Ottawa Senators organization. This includes being critical of player, coaching staff and management performance when things are astray. Another part of their job description is to be a megaphone for the voices of the team's customers, a.k.a. fans — which is precisely what Helmer was attempting to do.
As for Brennan, he's an opinion writer so I don't know why anyone would flock to him for purely factual information. The man for that would be Garrioch who has won an award for Senators coverage. And if you don't like the Sun,  their writers or what they have to offer, don't read the Sun. They're just one outlet catering to a particular demographic and there's absolutely nothing wrong with that. And if Spezza wants out because the media are too fierce, his personal prerogative should not be the one that guides general manager Bryan Murray.
In terms of "running people out of town", specifically regarding Jason Spezza, I think the 30-year-0ld himself, management and ownership sparked that gasoline slick with non-committal-sounding answers, not the Ottawa hockey media.
Moving on to the state of Spezza relative to the team going forward.
As I have said, and continue to say, Spezza will likely not be traded if Murray's carrot dangle doesn't result in a prospective return that makes the Ottawa Senators a Stanley Cup contender in 2-3 years. As one of my readers put it, "number-one centers do not grow on trees". If he is traded and Ottawa doesn't see fairly immediate success, like they were promised in 2011, there would no-doubt be a management shake-up.
Also in this reporter, blogger/fan fiasco, someone tweeted that Kyle Turris and Mika Zibanejad were ready to fill the number one and two center roles, respectively.
Okay, let's look at the Stanley Cup-contending Boston Bruins and compare their top two centers to the Turris/Zibanejad possibility. David Krejci and Patrice Bergeron versus Kyle Turris and Mika Zibanejad. That's laughable in the context of a cup-winning make-up without even comparing statistics. Yes, Turris had a fantastic season, but will he really be a Selke-type player in the near future?
That's just one team. How about the San Jose Sharks? Joe Pavelski and Joe Thornton. Again, no contest.
If one continues down the list, they may find the balance beginning to equalize, but we don't want to go down the list — we want to be on top of it. And I'm not saying that Turris and Zibanejad are bad players, I'm saying they're excellent second and third-line centers for the immediate future. The likes of J.G. Pageau and Curtis Lazar are on the fringe of becoming full-time NHL centers, but it's premature to say that they would immediately contribute as Cup-winning third-line centermen. They can certainly be inserted into the line-up over the next season or two, but in the meantime, the Senators require a number-one centerman who can put up north of 70 points per season as well as one who comes with playoff experience.
That is Jason Spezza or an equivalent. Ottawa's current captain has a no-trade clause that lists ten teams he can't be traded to, therefore, Murray has twenty options for potential destinations.
But regardless of the direction Murray decides to take, and that particular direction will soon be revealed, he most definitely has no shortage of assets…
…except for maybe those of the financial variety, or as Eugene Melnyk likes to call it, "spending wisely".
Love Reading About Hockey?

Subscribe to keep up-to-date with the latest and most interesting hockey news!
| | |
| --- | --- |
| | We hate spam just as much as you |