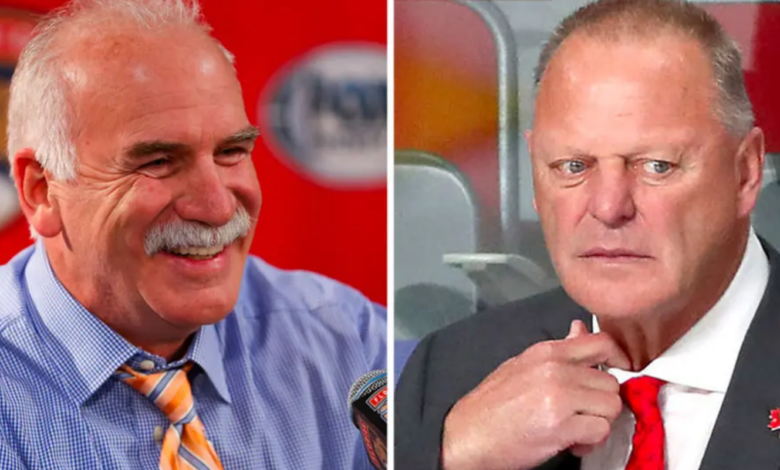 Not barely a day has passed since the New Jersey Devils eliminated the New York Rangers from the 2023 NHL Stanley Cup Playoffs, and already there are numerous speculations that coach Gerard Gallant may be on his way out. Additionally, there is a rumor from insiders that his successor may be a very well-known colleague who abruptly left the NHL.
Gallant's replacement may be none other than Joel Quenneville, who won three Stanley Cups with the Chicago Blackhawks between 2010 and 2015, according to both TSN's Darren Dreger and ESPN's Greg Wyshynski. Dreger said that Quenneville would need to be restored by the league before he could even be interviewed by the team, though he thinks that prospect is a "strong one."
To further Darren's point: The Quenneville chatter around the Rangers this series was deafening. As was, in the end, the chatter that Gallant could have coached his last NYR game on Monday. https://t.co/9dJbUhlX2m

— Greg Wyshynski (@wyshynski) May 2, 2023
The Blackhawks let Quenneville go in 2018. He was employed by the Florida Panthers a few months later. After speaking with NHL Commissioner Gary Bettman about the Kyle Beach incident in Chicago in 2010, he resigned from his position with Florida in 2021. At that time, Bettman said that before Quenneville could resume coaching in the NHL, he would need to meet with him again to be reinstated.
Joel Quenneville hasn't been officially cleared by the NHL. A formal interview request will likely encourage the commissioners approval. With existing coaching vacancies and speculation around the NYR, Quenneville's return to a bench is a strong possibility.

— Darren Dreger (@DarrenDreger) May 2, 2023
Quenneville seems like the ideal fit for the Rangers on paper. But in reality, he is burdened with more baggage than the JFK International Carousel. Since the public revelation of his role in the Brad Aldrich scandal cover-up, he has been suspended from the NHL.
Personally, I consider Quenneville to be one of the best NHL head coaches ever. But if I had him leading my team, I'd be damned. Any team who hires him, in my opinion, had better be prepared for an incredible PR response.