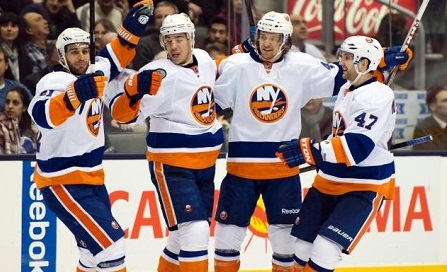 Prior to the start of the 2013-2014 season, I focused on 5 key areas where the New York Islanders would need to be successful in order to make a consecutive trip to the playoffs. Goaltending, secondary scoring, youth development, & schedule were the main areas of concern. Let's revisit and see how the Isles performed through the first half of the season.
1 – .915 – The save percentage that Isles' goaltending would need to hover around to be competitive on a nightly basis. As of January 9th, the team has the second worst save percentage at .893. Individually, Evgeni Nabokov has a .905 percentage through 24 games played, with Kevin Poulin .891 through 19 and Anders Nilsson .873 in a limited 5 games played. The search for consistent goaltending has been a struggle for the Islanders all season. When healthy, Evgeni has proven to be adequate. Since his return from injury last month, both his numbers (.924 SV%) and play have considerably improved. Unfortunately after re-aggravating that injury Monday night (1/6) against Dallas, Nabokov was put in IR again and will be out at least a week.
Kevin Poulin and Anders Nilsson have been inconsistent at best when given the opportunity. Poulin has had his share of winning moments, but has yet to show the poise that is needed to be an everyday starter in the NHL. It must be noted that the majority of Poulin & Nilsson's starts came during a brutal November stretch where the team hit rock bottom during a 10 game losing streak. It might not be completely fair to criticize the duo when the team in front of them was abysmal for much of the month, but even so, it's been tough to see either as the future of the team.
General Manager Garth Snow wanted to see how the Islanders would play with a Nabokov/Poulin share in net to start the season. The lack of quality play from Poulin has caused coach Jack Capuano to ride Nabokov as much as possible, but the veteran has shown he can only put up so many quality, consecutive performances. The aging Russian and inconsistent French Canadian have not been the answer.
2 – Secondary scoring – Kyle Okposo and Josh Bailey were key players coming into this season. Both homegrown draft picks, each took major strides at the end of last season. Their continued development seemed integral to the team's success moving forward. Let's do the good first. Kyle Okposo has turned into a real first line presence. Having the best season of his young career, 43 points through 44 games, the recent Olympic snub has proven he belongs on John Tavares' wing. He will easily surpass the 50 point mark for the second time in his career. On the other hand, Josh Bailey has been the most disappointing Islander all year. With only 14 points through 40 games, Bailey will struggle to reach the 50 point mark. It's evident that his confidence has taken a big hit. Bailey signed a long term contract with the team this offseason and is here to stay for the near future.
3 – Are these kids legit? Matt Donovan, Griffin Reinhart, Brock Nelson, & Ryan Strome were the four names coming out of training camp making the most noise. Reinhart was sent back to Jrs, Strome began the year in the AHL, and Donovan & Nelson began the season on Long Island. Through 45 games, the Islanders have had mixed results so far with their up and coming prospects. On the blue line, both Matt Donovan and mid-season call up Aaron Ness have had their share of rookie moments. Each has had time in both NHL & AHL. Most currently, Ness has been sent back down to Bridgeport, while Donovan has begun his second stint with the big club. One bright spot that has surfaced over the last month has been the play of former 1st round pick Calvin de Haan. A highly touted prospect who has been hit by the injury bug the last few seasons, de Haan has stepped right in to a decimated defensive corps and fit in nicely. Showing flashes of offensive ability, it surprisingly has been his shut down capabilities that have garnered attention.
Up front, Brock Nelson has played in 35 of the first 45 games. No one is going to be blown away by his 11 points, but his overall play has been solid enough to question his occasional healthy scratch from the lineup. Mainly a center, Nelson has been showcased on the first line wing from time to time, and although still developing, his versatility will be an asset to the club for years to come. Star prospect Ryan Strome was called up in December and made his debut on the 14th against the Canadiens. With 4 points in 12 games, the potential is clearly there.
The talent is there. Strome, Nelson, & de Haan keep cementing their future with each game. Donovan's play, although inconsistent, has shown enough to merit a stay on the island as well. Due to some injuries and poor play by some veteran forwards, mainly Bailey & Grabner, there has been some ill-advised pressure put on the younger players at times. But kept in perspective, the Islanders youth movement is moving along nicely.
4 – Quick Start – This is the one point that can be fairly viewed as a failure. A slow starting team the last few seasons, the Isles had a good opportunity to take advantage of an easy October schedule. With 8 of their first 12 games at home, the team gained a total of 11 out of a possible 24 points. Although not on the level of the team's disastrous November, they squandered numerous points at the Coliseum, with blown third period leads to Columbus, NY Rangers, and the lowly Buffalo Sabres being the most memorable. The Islanders wasted a golden opportunity to pull away from a mediocre Metropolitan division at a time when they were most healthy.
5 – Dearly Departed? The loss of free agent Mark Streit and the trade of Nino Niederreiter were two situations that I wanted to monitor this season. Both do not have a direct impact on how the Islanders have played the first half, but who doesn't like a good "what if?" Mark Streit has put up 19 points for the Flyers through 44 games, with 8 coming on the power play. Andrew MacDonald has filled in nicely for the Isles with 22 in 45, and 10 points coming on the power play. A-Mac is also averaging 5 more minutes of ice time than Streit.
The Nino deal is more long term. It will at least be another year or two before the trade can by objectively analyzed. Niederreiter has played well for the Wild so far this year putting up 22 points in 45 games. Clutterbuck has 8 points in 39 games for the Isles.