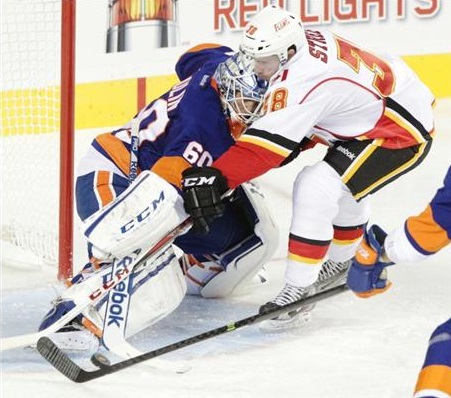 The New York Islanders opened up their preseason schedule last night with a pair of split squad losses to the Calgary Flames. Only one of these games was available for viewing to Long Islanders. The unavailable Regina squad, which included a lineup of John Tavares, Matt Moulson, & Evgeni Nabokov lost 4-2. The Calgary game, which was available for steaming, finished as a 5-3 win for the Flames. The only news worthy nugget was Cal Clutterbuck sustaining a lower body injury. Newsdays' Arthur Staple reports Clutterbuck suffered a skate laceration and "will miss some extended time" according to head coach Jack Capuano.
Although it is ridiculous to take any major stock in what occurred last night, there were a few points that attracted my attention. All comments below are restricted to the Calgary game.
Kevin Poulin might not be the answer in net. The Islanders want Poulin to take the reins. He will have every opportunity to "lose" the backup job to Anders Nilsson during the next 2 weeks, but judging from how he looked in Calgary, Kevin Poulin does not strike me as an NHL netminder. Sure, he made some saves, and his numbers might reach the "average" amongst NHL goalies, but to me, he simply does not pass the "eye test." Being a former goalie, I tend to pay more attention to skating, positioning, and structure when it comes to analyzing someone in net. He wanders too much, he never seems to be as set or square to the shooter as he should be, and once he is, his body seems too "flimsy." Quite frankly, it gets to the point where shifts become an adventure with Kevin Poulin roaming the crease. Goaltending shouldn't look this hectic!
I just don't see how head coach Jack Capuano and General Manager Garth Snow can feel comfortable going into opening night with an Evgeni Nabokov – Kevin Poulin duo. The Islanders open their season with 8 of their first 12 games in October at home, including 3 back to backs. The Isles cannot afford a slow start and having a solid backup goaltender is going to be imperative to a strong October. This could become an undesirable situation where the staff has a lack of confidence to start Poulin and leans on Nabokov to take advantage of the early schedule. I hope I'm wrong, but Kevin Poulin needs to improve and become more consistent.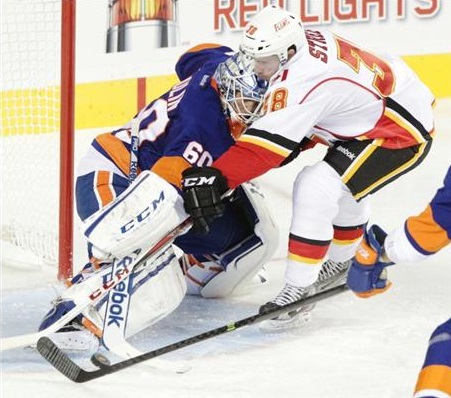 Other than Kevin Poulin, the two other notes I would make are the play of the "Calgary" first line & the play of Matt Donovan. Kyle Okposo, Frans Nielson, & Josh Bailey did look a bit rusty last night. Wouldn't make too much of it, but this line will have to be successful for the Isles to make a playoff run. Specifically, Okposo & Bailey need to progress on their strong play at the end of last year.
Matt Donovan was viewed as the leader among defensive prospects to break the lineup on opening night, and he did nothing to deter that last night. Donovan led the team in minutes on ice, and was strong all over. He tallied an assist and was a plus one. The MacDonald – Donovan pairing is looking more likely to start the season.