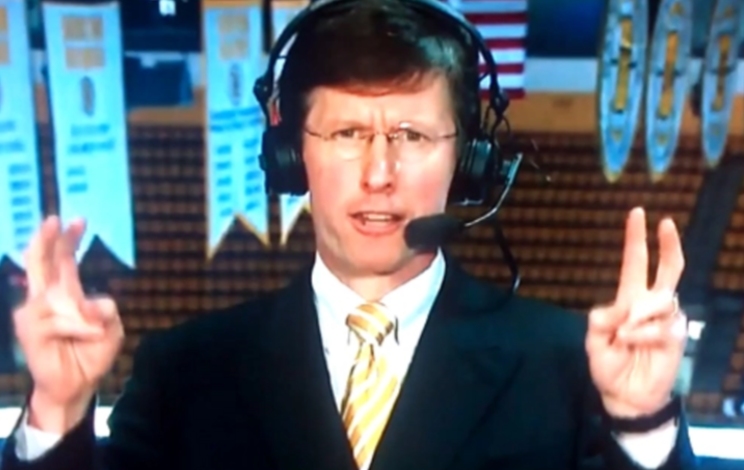 Jack Edwards, the opinionated Boston Bruins television analyst who has become well recognized over the years for his polarizing broadcasting style and bias that results in a treasure trove of verbal highlights, is well known to devoted National Hockey League fans.
Earlier this season, Tampa Bay Lightning forward Pat Maroon received criticism from Edwards after he seemed to fat-shame him by saying that "inadvertent fasting for Pat Maroon is like going four hours without a meal."
A.J. Greer, a forward for the Bruins, was given a penalty and a ten-minute misconduct for instigating during Wednesday night's 2-1 overtime victory by the Bruins over the visiting Original 6 rival Toronto Maple Leafs. Greer went after Toronto's Sam Lafferty for his hit on Matt Grzelcyk.
A.J. Greer doesn't like Sam Lafferty's hit on Matt Grzelcyk and let's him know.

Greer gets an instigator penalty even though the fight looked mutual. pic.twitter.com/KtYxf4EyJh

— Bear With Me (@BearWithMe_Pod) April 6, 2023
The first to comment was color commentator Andy Brinkley:
"I thought Greer went about it the right way," Brickley said. "Yeah he's the first one there and he wants to respond to the hit, but I thought he invited the fight from Lafferty and [Lafferty] accepted. To me that's not an instigator."
But in Edwards' perspective, the decision was made as a result of what he perceives to be official pro-Toronto bias.
"Well, it is Toronto," Edwards responded.
And it wouldn't take long for Edwards to pick on where he left off, suggesting that the on-ice officials were trying to aid the Maple Leafs.
"One shot on goal for the ref. As if they aren't helping Toronto enough," Edwards said during the 2nd period.
Edwards is hardly the first prominent person to express his opinion that Toronto is favored by the League. Darryl Sutter, the head coach of the Calgary Flames, stated as much earlier in the season after what he perceived to be a game that was lopsidedly penalized by the on-ice officials:
"That's one thing I learned a long time ago — when you're in Chicago all those years and you come into Toronto, you know what goes on. I won't say nothing more." -Darryl Sutter #Flames fans… after taking 7 penalties against the Leafs, do you agree with the coach? 🤔 pic.twitter.com/EFWr007HVK

— Tim and Friends (@timandfriends) December 11, 2022