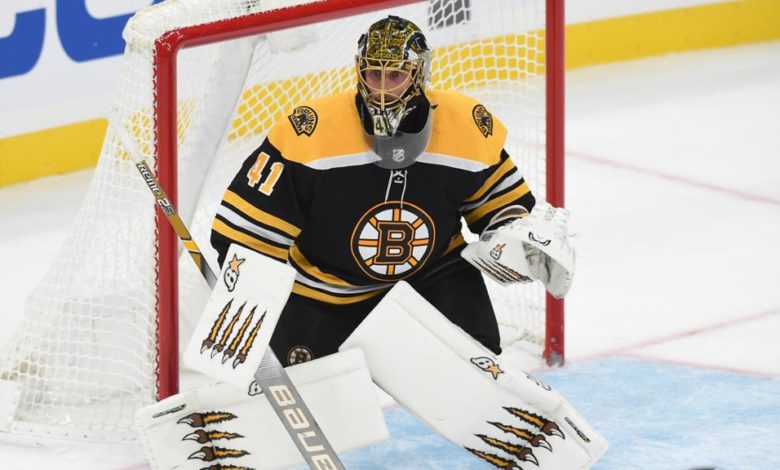 After buying out Holtby yesterday the Canucks are reportedly signing Jaroslav Halak to a one year deal worth roughly 1.5 million.
**Breaking News** All signs point to Halak signing a 1 Yr Deal with @Canucks with a base of 1.5M + potential bonuses of 1.5 M as well.@espn @NHL @NHLNetwork #TSNHockey #HockeyTwitter

— Kevin Weekes (@KevinWeekes) July 28, 2021
Halak made his NHL debut against the Columbus Blue Jackets on Feb. 18, 2007, making 31 saves in a 3-2 victory.
In 2006-07, Halak finished with a 10-6-0 record, including 7-0-0 at Bell Centre, becoming the first NHL goaltender since Bob Froese of the Philadelphia Flyers in 1982-83 to win his first seven decisions at home.
Although he spent most of the 2007-08 season with Hamilton, Halak spent the entire 2008-09 season in Montreal, going 18-14-1 before having a breakout season in 2009-10, taking the No. 1 job away from Carey Price by going 26-13-5 with a 2.40 GAA, a .924 save percentage and five shutouts. Halak then helped the eighth-seeded Canadiens rally from a 3-1 series deficit in the first round of the Stanley Cup Playoffs to upset the top-seeded Washington Capitals, stopping 131 of 134 shots in the final three games, including a Montreal playoff record 53 saves in Game 6.
Halak also helped the Canadiens rally past the Pittsburgh Penguins in the second round to the Eastern Conference final, but a few weeks after being eliminated by the Philadelphia Flyers, the Canadiens opted to stick with Price as their starter and traded Halak to the St. Louis Blues for Lars Eller and Ian Schultz on June 17, 2010.
In 2011-12, his second with the Blues, he finished fourth in the NHL with 1.97 GAA (minimum 30 games) and won the William M. Jennings Trophy along with teammate Brian Elliott (who led the NHL with a 1.56 goals-against average) for fewest goals allowed.
Despite going 24-9-4 with a 2.23 GAA and .917 save percentage for St. Louis in 2013-14, Halak was traded to the Buffalo Sabres on Feb. 28, 2014. He dressed for one game with Buffalo before being traded again, this time to the Capitals on March 5, 2014.
He went 5-4-3 with a 2.31 GAA and .930 save percentage with Washington, but the Capitals traded him on May 1, 2014, to the New York Islanders, who he signed a four-year contract with on May 22, 2014.
Halak stepped in as New York's No. 1 goaltender in 2014-15 and set franchise records with 38 victories, including 11 consecutive wins from Nov. 5 to Dec. 4, to help the Islanders return to the playoffs. That season, he was named an all-star for the first time in the NHL.
Halak would go on to spend three more seasons with the Islanders before signing as a free agent with the Boston Bruins on July 1, 2018.
In his first season with Boston, as a backup to Tuukka Rask, he went 22-11-4 with a 2.34 GAA, a .922 save percentage and five shutouts.