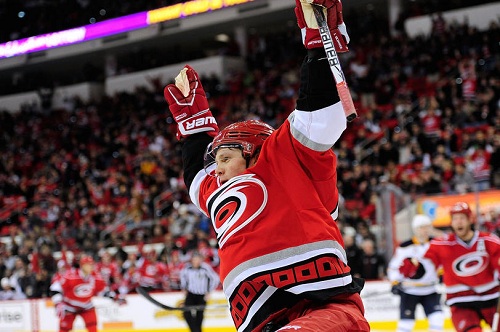 Another day, another devastating blow to the Carolina Hurricanes' roster. The loss of Jordan Staal earlier in the preseason hurt the team's depth down the middle. Now, the team's leading goal scorer from last season is out indefinitely.
Jeff Skinner sustained a concussion after taking a hit to the head from Capital's defenseman Matt Niskanen in Sunday's final preseason game. After taking a faceoff, Skinner turned towards the net where he met Niskanen's shoulder (or elbow, depending on who you ask) and was knocked to the ice. When he tried to get up and collect his stick from the ground, it was obvious Skinner wasn't right. He fumbled around and his legs looked shaky as he tried to catch his balance.
The loss of Skinner is huge for the Hurricanes. He led the team in scoring last season with a career-high 33 goals. He's a dynamic skater with a knack for pulling off highlight-reel moves. With Staal and Skinner out, some role players may see significant time in the top six. The two were expected to be anchors on the second line with Elias Lindholm flanking them. Nathan Gerbe is expected to slide into that spot for now. While Gerbe is a good, skilled payer, he's far from having the skillset Skinner brings to the team.
The bad news for Carolina is they won't have their best scorer on the ice. The worse news is that this isn't Skinner's first concussion. In his four-year career, Skinner has already sustained several concussions and missed significant time in the past few seasons dealing with symptoms. The concern now isn't for Carolina's offense. It's now more important to worry about Skinner's long-term health moving forward. The current issue isn't how long Skinner will be out; it's if he should play at all and risk further injury. With all of the recent problems with head injuries around the league, it would be worth it for Skinner to consider his options before trying to rush back to action.
Most hockey analysts, bloggers, and pundits picked Carolina to finish somewhere in the bottom three of the league. With two key roster losses in the preseason, it's hard to see how the Hurricanes will exceed those expectations. With their collective back against the wall, the only thing left to do for Carolina is to come out swinging. There's nothing to lose for this team and the puck drops Friday. With so much adversity already facing them, Carolina has to develop a tight bond to overcome the issues.