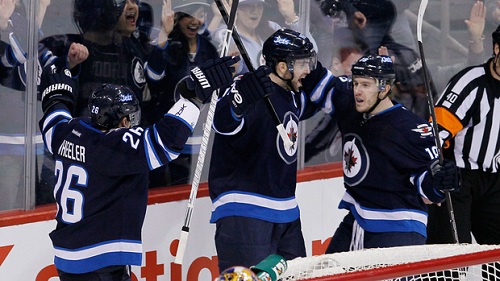 The Winnipeg Jets survived a wild first period on Thursday night, and then settled in for a big win.
Evander Kane scored two goals as Winnipeg outgunned the Florida Panthers 7-2 for their third straight win.
The Jets took a 3-2 lead after the first 20 minutes of play, with four goals scored by both teams in a span of less than three minutes.
"There's a part of the game you're going to go through where you have situations like that, where maybe it's not ideal," said Winnipeg captain, Andrew Ladd of the first period. "But we're still winning the game 3-2 and it settled the guys down and (we) moved forward."
Jets head coach Claude Noel called time out to calm his players and, while he wouldn't say what he told the team, it seemed to work.
"It was back and forth — it's not ideally what you'd like but there's an opponent too you know — we wanted to get things back on track," he said. "I thought we did a great job straightening it out."
Ladd, Aaron Gagnon, Grant Clitsome, Dustin Byfuglien and Chris Thorburn also scored for Winnipeg, who are now tied with the New York Rangers for eighth place in the Eastern Conference. However, New York has two games in hand. The Washington Capitals lead the Southeast Division with 46 points and a game in hand over Winnipeg.
Noel said that the game raised his "joy level to above nine out of 10", as the Jets continue their fight for post-season life.
"If we win Tuesday, there'll be some more," added Noel.
T.J. Brennan and Tomas Fleischmann scored for the Panthers, who remain at the bottom of the Eastern Conference standings.
Gagnon got things started with his second career NHL goal. He was parked in front of the net and deflected Blake Wheeler's shot from the point past Florida goalie Jacob Markstrom.
Less than a minute later though, Kip Brennan deflected one past Winnipeg goaltender Ondrej Pavelec to even things up.
Kane waited a whole 18 seconds to tip a slow-motion puck past a sprawling Markstrom to put the Jets ahead again. But Fleischmann scored less than a minute and a half later with a wrist shot that slipped under Pavelec's leg.
Then Noel called his time out.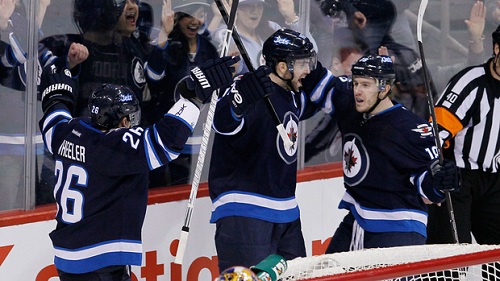 Ladd responded by putting the Jets back on top with a 3-2 lead before the first period ended.
Florida put on more pressure in the second but it was the Jets who scored, starting just past the 10-minute mark when Bryan Little fed Clitsome in the slot on a power play.
Byfuglien drilled one past Markstrom from the point just 28 seconds later and Kane dashed in behind the sprawling goaltender to slip one into an empty net at 11:58.
That was enough for Florida coach Kevin Dineen, who replaced Markstrom with veteran Scott Clemmensen in net.
The frustrated Panthers ended the second by handing the Jets a five-on-three power play. It started with an unsportsmanlike conduct penalty against Parros after he failed to goad Chris Thorburn into a fight, followed by an illegal check to Little's head by Erik Gudbranson.
The check sent a bleeding Little to the dressing room but the Jets failed to score on Clemmensen. Little returned in the third and Noel said later he appears fine.
The Jets weren't finished however, as Thorburn deflected Ron Hainsey's shot past Clemmensen at the 11:53 mark of the third.
Kane, who has three goals and two assists in the last three games, noted the way second periods have been keys to success in all three of their recent wins.
"I think our seconds have really been the difference in these last few games," he said.
"We've come out and wanted to kind of bury teams early in the game and not wait around till the third period. . . . Instead of talking we're just going out there and doing it and that's good to see."
The Jets now get a breather before facing the Tampa Bay Lightning on Tuesday.