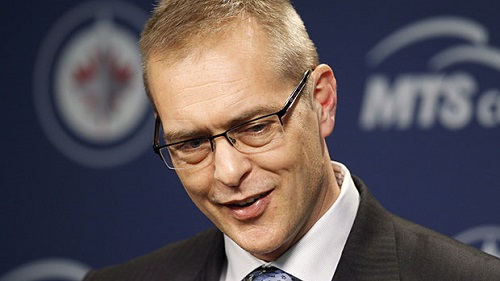 When head coach Claude Noel was fired on January 12th, the Winnipeg Jets were in the midst of a five-game losing streak. Noel and assistant coach Perry Pearn were shown the door, and in stepped veteran head coach Paul Maurice.
With their 3-2 win over the Edmonton Oilers Saturday night, the Jets have won three straight games under Maurice, and have played re-inspired hockey. While beating the Phoenix Coyotes, Calgary Flames, and Edmonton Oilers is not necessarily a large accomplishment, the Jets have played much better hockey under Maurice, using their speed and youth to create chances. Maurice has also done a great job re-defining how the Jets play in their own end, and it hasn't gone unnoticed.
Goalie Ondrej Pavelec said he's noticed the improved defensive play of the Jets. And he says it's a marked turnaround from the way they were playing before.
"We've played great defensively and five-on-five we haven't given them much," said Pavelec. "You play great defence you create offence."
Maurice has made an impact within the players in a short time, creating a culture change within the locker room in an attempt to rid the Jets of their losing ways.
"He's very demanding," said Jets centre Olli Jokinen. "Now you have a new set of eyes watching you and you see a lot of guys paying attention. There's no screwing around between the drills. You see a lot of bobbleheads out there — guys are nodding and listening. That's usually what happens for the first week when there's a new coach. He wants us to do everything fast. He wants us to pass the puck hard.
"This is the NHL. You should be able to do those things automatically. That's what he wants us to do in practice. Once you start doing those little things in practice right, it's going to be automatic in the games."
Maurice also has much confidence in rookies Mark Scheifele and Jacob Trouba, stating that they are "players, not rookies. When I throw them over the boards it's because they get what they have earned."
The real test begins with a brief California road trip, where the Jets face powerhouses Anaheim Ducks and San Jose Sharks. The Jets are 10 points out of a playoff spot, and will need to continue their winning ways if they want to make a playoff push this season.