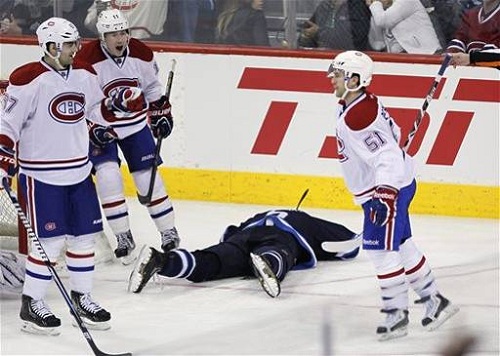 The Winnipeg Jets saw their playoff hopes end Thursday night on two scoreboards they didn't control, even before they lost 4-2 to the Montreal Canadiens.
The Jets were ahead 2-1 as they started the third but already knew their result wouldn't be enough.
Both the New York Rangers and Ottawa Senators clinched the two final playoff spots with overtime wins that kept them firmly in the last playoff spots in the Eastern Conference.
James Wright and Blake Wheeler scored for the Jets, who finished the season 24-21-3.
Chris Thorburn and Wright teamed up for Wright's second goal of the season midway through the first period to put the Jets ahead 1-0. Wright's wrist shot from the slot found the upper corner of the Montreal net.
The Jets were outshot 8-4 in the first and had managed only two more midway through the second when Rene Bourque evened things up.
His shot from the faceoff circle found its way through a mad scramble in front of the Winnipeg net.
But Wheeler put the Jets ahead again about five minutes later when he dug a puck out of a scrambling Carey Price in front of the Montreal net and slipped it in.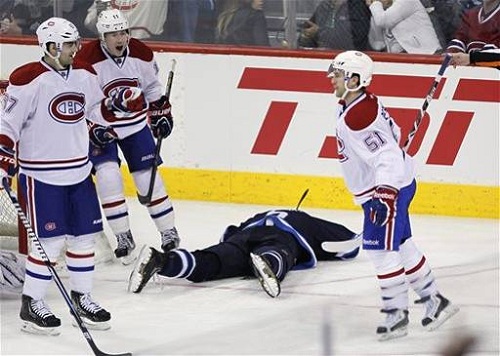 The third was only about two minutes old when Winnipeg netminder Ondrej Pavelec intercepted Gallagher's shot, only to see it rise high in the air and bounce behind him, dribbling over the line before he could grab it.
Desharnais then scored on a 5-on-3 in the third to put the Canadians ahead for the first time.
A few minutes later he tipped in Pacioretty's shot from the point for a little insurance.
The Jets looked like a good bet to make the post-season until a five-game slide that started in late March.
Their only chance was to win Thursday and have both New York and Ottawa lose all their remaining games.