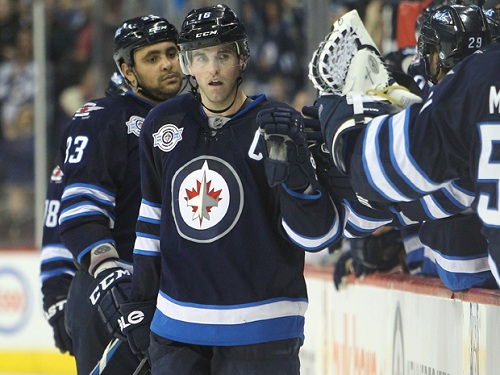 With the Jets' win over the Florida Panthers Friday night, the Jets have now played half of the 48 games in the shortened 2013 NHL season.
The Jets sit at second in the Southeast Division (behind the Carolina Hurricanes), with a record of 12 Wins, 11 Losses, and 1 OT loss. They sit one point out of a playoff spot in the Eastern Conference with 25 points.
Grades:
Andrew Ladd: A+ (24GP, 13G, 11A, +6)
The captain from BC, Canada has been a leader for the Jets this season, leading the team in points and goals. However, his only contributions to the team have not been on the offensive side of the puck. The captain is fourth on the Jets in hits with 36, second in takeaways with 11 and has just four giveaways on the season. Additionally, he is among the leaders on his team for ice time, averaging 19 minutes a game. There are many times when stats can be misleading, but make no mistake here, the 2-time Stanley Cup champion's stats ring true about the impact he is having.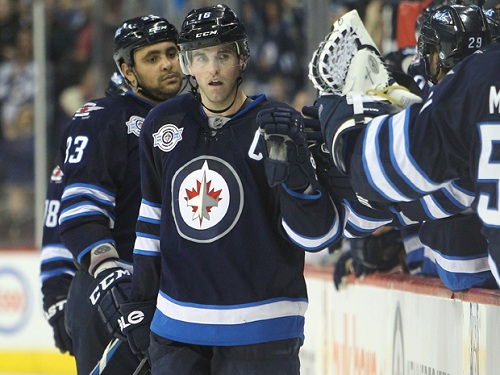 Tobias Enstrom: A (13GP, 2G, 11A, -3)
The Swedish defensemen has been injured for the last couple weeks, but when he's played, Enstrom has dominated offensively, even for his standards. Scoring at a point per game before the injury, the top pairing of Enstrom and Dustin Byfuglien has also been solid defensively as well. A powerplay quarterback, the Jets and their brutal powerplay can't wait for Toby to heal up.
Evander Kane: A- (24GP, 9G, 9A, +2)
Evander Kane is scoring a decent .75PPG pace, but the real story is how he is among the league leaders at even strength. All but one of his goals have come at even strength, putting him at fourth in the league. If Kane starts producing on the powerplay, he could end up one of the top goal scorers in the NHL. He also leads the Jets in hits.
Dustin Byfuglien: B+ (19GP, 4G, 7A, +6)
The big defensemen has been solid offensively as usual, but has shown improvement in his own end this season. He plays some of the harder minutes on the team (though the Rainsey-Bogosian pairing takes most of the shutdown minutes), but remains with a positive plus/minus rating. Dustin had a great start to the season, but was slowed by injury. If his conditioning holds up and he reverts to his early season play, his grade could easily go up.
Blake Wheeler: B (24GP, 8G, 11A, -8)
The 26-year forward hasn't been playing as well as last year, but is still finding a way to produce at a good rate. He seems to slowly be coming around the last couple weeks, and continues to work hard. I expect his play to steadily improve, especially if the Jets' powerplay wakes up.
Bryan Little: B- (24GP, 4G, 11A, +7)
Bryan Little has played a lot a center this year, and has been fairly good in the faceoff circle, posting better %'s than notable two-way centers such as Mikko Koivu, Mike Fisher, and David Backes. Offensively, he could use some improvements, but I believe he produces best at Right Wing.
James Wright: B- (22GP, 0G, 1A, -6)
His stats don't suggest he is a useful player for the Jets, but the waiver pickup has been great for the Jets. He wasn't brought in here to score goals, but to play physical and fill in the 4th line, which he has done a great job of. He has also performed well on the PK.
Ron Hainsey: B- (24GP, 0G, 8A, +1)
One of the two only defensemen to have played in all 24 games for the Jet, Hainsey has been relied on to log big minutes (23:46 TOI/G), and against tough competition (1.486 Relative Corsi QoC). Though far from perfect, Hainsey has taken on his large role and has done his job for the most part.
Zach Bogosian: B- (12GP, 1G, 2A, -3)
Injured to start the season, Bogo has slowly been transitioning into his normal self. Same sample, and I'm expecting improvement further down the road from the 22 year old.
Alexander Burmistrov: C+ (24GP, 3G, 4A, +6)
Defensively, he has been great, posting one of the best Relative Corsi #'s on the Jets. The offensive unfortunately isn't coming, but the 21-year old has lots of room to improve, and is displaying his hard work and skill even if the goals aren't coming.
Paul Postma: C+ (23GP, 1G, 5A, -3)
The rookie hasn't looked too much like a rookie out there. Obviously needs work in his own end, but has been good offensively. As long as he continues to play the sheltered minutes he is currently getting, he should be a good bottom pairing guy that can play on the powerplay for the rest of the season.
Grant Clitsome: C+ (21GP, 2G, 5A, +5)
For a depth defensemen thrust into everyday play (and the top-4 at times), Clitsome has exceeded expectations. Has played good at times, but has made brutal mistakes at times, due to his increased minutes.
Mark Stuart: C (24GP, 1G, 0A, +1)
The other defensemen to play in every game this season, Mark Stuart is nothing special. A bottom pairing guy that plays physical and hard, he has been exploited a bit when placed in the top-4 due to injuries.
Nik Antropov: C (24GP, 1G, 7A, +7)
A streaky goal scorer, Antropov only has one so far this year, but is setting up a good amount of goals.
Jim Slater: C (24GP, 1G, 1A, -2)
4th line center that is good defensively and in the faceoff circle. Nothing spectacular, but sometimes that's the sign of a good 4th liner.
Olli Jokinen: C- (24GP, 5G, 2A, -12)
Believe it or not, Olli Jokinen is scoring even strength goals the same pace he has the past 4 seasons. However, he can't set up anything to save his life, missed too many open nets, is not producing on the powerplay, and has the worst +/- on the team. A big disappointment, Jokinen's inefficiency (along with Kyle Wellwood's) has caused players that should be playing in the bottom six to play bigger roles.
Kyle Wellwood: D (18GP, 1G, 2A, -2)
Wellwood was supposed to be a point producer under sheltered minutes. He has had problems producing, but the one positive I can say of Wellwood's game is his puck possession, which minimizes the other team's scoring chances, but Wellwood isn't doing much with the puck.
Eric Tangradi: D (17GP, 1G, 0A, +1)
Has shown a willingness to be physical, cycles decently, but has not shown anything offensively.
Chris Thorburn: D (19GP, 1G, 0A, -2)
Below average 4th liner that is willing to stick up for teammates but the hockey skills don't seem to be there anymore.
Ondrej Pavelec: C+ (21GP, 9-11-1, 2.87 GAA, .901SV%)
Pavelec has struggled with consistency throughout his career, and this season is no different. He has shown flashes of being an above average goaltender, but lets in too many soft goals and has too many bad games. If he plays well, the Jets have a shot at the playoffs.
Al Montoya: B- (5GP, 3-0-0, 2.33GAA, .909SV%, 1SO)
Montoya has done all you could ask for from a backup goaltender. His numbers need to stay up in order to push Pavelec and hopefully cause him to play better.
Penalty Kill: D (76.6%, 28th)
The Penalty Kill has been pretty bad, but has looked good as of late, the only thing keeping it from getting a F.
Power Play: F (13.7%, 29th)
When is Toby Enstrom coming back? Even with their power play quarterback, the Jets have had a less than spectacular power play. Without him, they have dropped to second-last in the league. Their special teams need to improve if they plan on making a playoff push.
Claude Noel: B-
The Jets have improved on the road, and I feel Claude has done a good job with the lines given the injuries and what we have. We cannot overlook the fact the coach must play what he has, while some may criticize ice time for some players we must remember where our depth is at this point. As of late I have noticed Noel has managed his bench a little better and guys who earn their ice have been given key situations.
Kevin Cheveldayoff: C+
GM Cheveldayoff has not made any large moves, but has made enough where we can make a fair assessment. The offseason signing of Olli Jokinen seemed to be a great idea, but Jokinen has underachieved. Since being traded to the Jets, Tangradi hasn't produced, but no one expected much anyways. I love the Wright and Clitsome waiver claims, and like the Ponikarovsky trade, not hesitating to get rid of a player that clearly couldn't adjust.
Incomplete:
Zach Redmond
Anthony Peluso
Antti Miettinen
Mark Scheifele
Though they sit only one spot out of a playoff spot, the Jets have lots to improve on if they want to make the playoffs. Jokinen, Burmistrov, and Wellwood need to produce, and their special teams need to improve. The Jets also need more consistency from Ondrej Pavelec, and a lot more luck with the injuries to the backend.