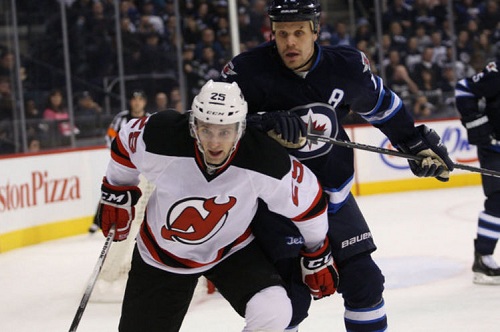 The Winnipeg Jets prevailed over the New Jersey Devils on Thursday night, led by captain Andrew Ladd, who had two goals and one assist, in a 3-1 win.
The Jets, who have now won five of their last six, have also extended their winning streak to three games.
Before the game, Wheeler said "We were able to change our attitude and go out and play to our potential," referring to the road wins. "But just one look at the standings and we can see that we're not a playoff team and we're only .500. That should keep us grounded and keep us hungry."
The Jets playing hungry from the start, as Andrew Ladd opened the scoring and tied a franchise record for quickest goal as he backhanded the puck past Johan Hedberg eight seconds into the game for his 11th goal of the year. Ladd's goal tied a mark set by Ronald Petrovicky on Dec. 20, 2003 when the franchise was still based in Atlanta. Kyle Wellwood also scored just eight seconds into a game against the Pittsburgh Penguins early last year for the Jets.
Andrei Loktionov tied the game up for the red and white in the second period, but Ladd jammed the puck into the net to break the deadlock with only eight minutes left in the second period.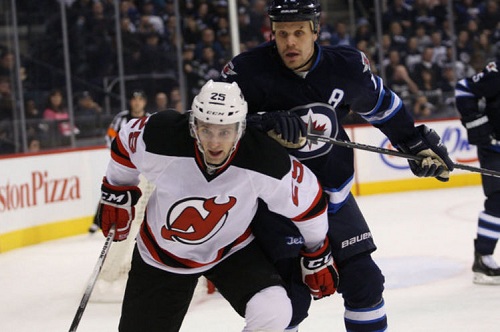 Blake Wheeler added an empty netter to seal the deal.
The Jets continue to struggle with the man advantage, failing to capitalize on three power plays in the second period, including a short two-man advantage. The team has just one power-play goal in its last 11 games.
3 stars: Byfuglien (3), Pavelec (2), Ladd (1)