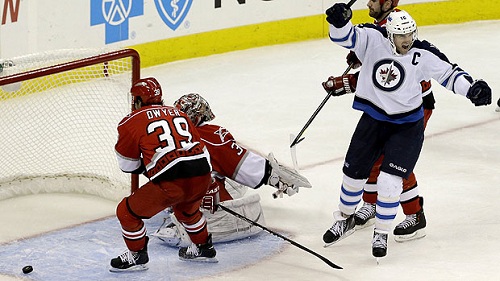 Blake Wheeler helped the Winnipeg Jets get a win over the Carolina Hurricanes without rookie defenseman Zach Redmond, who had surgery to repair a laceration to an artery in his right leg after a teammate accidentally stepped on him during the club's morning skate.
"You can't really put it into words what goes through your mind when a teammate is hurt like that on the ice," Wheeler said. "I think all you can really do is just try to channel those emotions into going out and putting your best foot forward and trying to win for one of your teammates."
"It was big just to find a way to win," Wheeler said. "It wasn't necessarily our 'A' game. … That's the way you get the job done in this league. You've got to find a way to win when you don't have your best game."
Wheeler scored his second goal of the game with 4:54 remaining on a partial breakaway to lift the Winnipeg Jets to a 4-3 win over the Carolina Hurricanes on Thursday, capping the game's 3rd goal in merely a span of 1:03 in the 3rd period.
Andrew Ladd, who was playing in his 500th career game, also scored and added two assists. Evander Kane also scored, and Ondrej Pavelec made 27 saves en route to a win.
Jiri Tlutsy added two goals for Carolina, and Jordan Staal added the Hurricane's 3rd goal.
Blake Wheeler opened the scoring 1:53 into the first with a weak wrist shot which Ward couldn't handle.
Jiri Tlutsy tied the game with a absolutely filthy pass from Alex Semin, who dished a no look, backhand pass that went through a pair of legs to Tlutsy.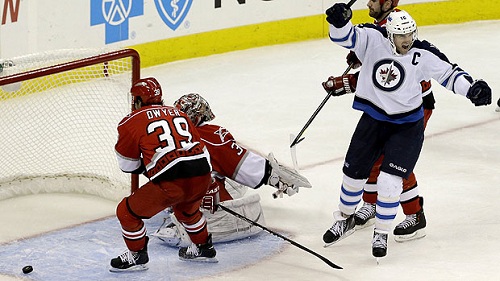 Evander Kane gave the Jets a 2-1 lead, which only lasted 1:27 as Jordan Staal tied it up on a shot in the slot.
Ladd then gave Winnipeg a 3-2 lead in the third, but the persistent Hurricanes tied the game 47 seconds later. Not to be outdone, Wheeler scored the game winner 16 seconds after.
The Jets have now won the first two games of a five-game road trip after losing three in a row at home.