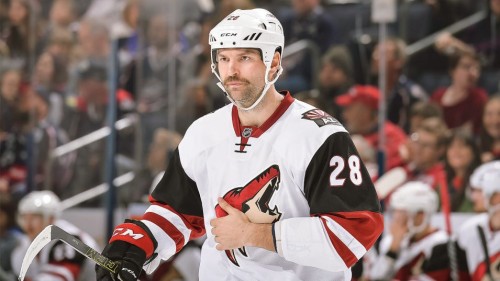 The past few years, we have seen the NHL try almost every single imaginable iteration of the mid-season "classic" in order to make it relevant. This year, they set their sights on a 3-on-3 miniature tournament, bringing the aspect of speed and skill into the contest.
While the discussion regarding the merits of the format implemented this year is a very intriguing one, it is not the discussion that we should be having at this very moment (though I'm sure I will bring it up again as the event nears). The hottest topic on the tip of everyone's cursor revolves around a certain enforcer in Arizona – John Scott.
I have just watched the TSN Panel discuss the merits of John Scott attending the All-Star game; and while I deeply respect their opinion (especially Bob McKenzie, the majestic analyst that all hockey writers should strive to be), this "issue" is much more convoluted than what a 5-minute segment allows for.
The multifaceted issue facing the NHL surrounding John Scott can be broken down into several components:
The average NHL fan older than 16 likely doesn't care about seeing all of their favorite stars play together. Truthfully, if they wanted their favorite players all together running up the score mercilessly, EA Sports have given them a pretty good alternative, which includes hitting. This is far superior than a glorified game of shinny that stops the season dead in its tracks for the better part of a week.
In what is the most intriguing argument for hockey fans, they respect the game enough to know that sometimes the under-appreciated guy deserves their shot in the spotlight. It could be argued that, by voting for John Scott, you're vicariously thanking your team's resident enforcer who tries his hardest, gets very little points, but will throw down with absolutely anyone that even looks at you and your teammates the wrong way. In the alternative, much less optimistic view, everyone has collectively decided to play a prank, with John Scott being the punchline to a very deliberate, very cruel story.
Ever since fan balloting has started, fans have naturally gravitated towards a player's (or team's) cause, case in point: last year, Zemgus Girgensons led the poll, with five (that's right, five) Blackhawks following him – It was a very good story regarding the will of a small European nation rallying behind their new favorite son (which is good for the NHL, expanding its reach), and to their credit, the Blackhawks did win the Stanley Cup. The All-Star game before that, taking place in Ottawa, had four hometown heroes lead the polls. The year before that, it was all Chicago and Pittsburgh, with the fans "electing" four Penguins and two Blackhawks – Let's also not forget the Vote for Rory campaign in 2007. The point is, as long as fan voting exists, ballot-stuffing will go hand in hand with it. It would be unwise to limit the vote to one per user, as the NHL would realize how few people actually care about the ASG.
The concept of the ASG has been lost on many people, and there isn't much incentive to keep the game going. Look at it this way: the most exciting part of the All-Star Weekend is the skills competition, which shows NHLers having fun and showing off their skills; it's a media act, but social media has compartmentalized that so that every team's feeds shows what players are like when they decide to goof around. The game itself is meaningless; and I'm fairly certain dangling a $1,000,000.00 prize in front of them will do very little to motivate players who make six to eight times that amount in one year. For this reason, fans could easily jump on the bandwagon of someone's joke campaign and make it serious. Apathy may not generate much momentum on a media circus, but it will certainly not slow it down either. Ask Donald Trump.
Whether John Scott belongs at the ASG or not is not a simple answer. If the NHL wants to showcase its skills, there is certainly plenty to show off in regards to speed and stick handling without John Scott ever setting foot anywhere near Nashville; however, the inclusion of John Scott allows for the NHL to showcase one of its dying skills: fighting. It's almost as if the suits forget that hockey is a game of skill, but also of toughness.
Maybe the fans are right; maybe seeing a penalty or at least a hit at the ASG is what is needed to start making the game relevant, and John Scott is merely a symptom of a larger disease surfacing after years of frustration (to paraphrase a certain caped crusader: he's the hero the NHL needs, not the hero it deserves). Or maybe people think it's hilarious. Personally, I'm in both camps.