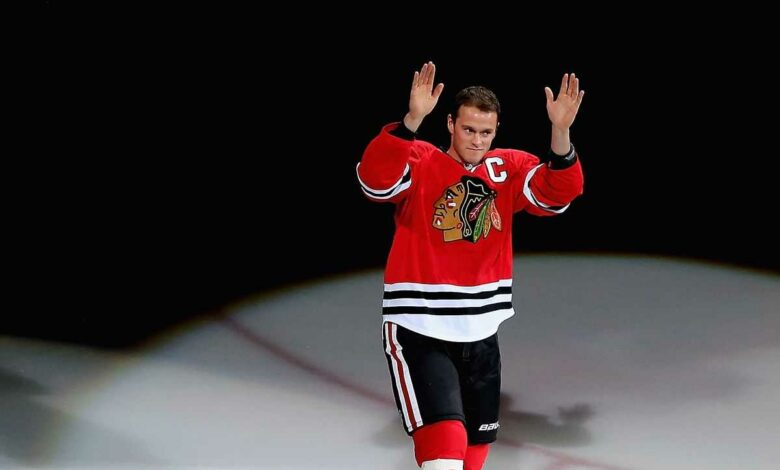 More and more, it seems as though Jonathan Toews' career is nearing an unpleasant conclusion. Toews is reportedly considering retirement after the season, according to two sources.
In a statement on February 19, Toews, who hasn't played since Jan. 28 at Edmonton, said that he has long-term COVID symptoms as well as chronic immune response syndrome. Due to both ailments, the Blackhawks captain was out for the whole 2020–21 season.
Undoubtedly, no one wants to see one of the greatest centers in NHL history pass away in this manner.
Toews deserves to be praised one last time, so if he's decided to retire, you'd hope it goes something like this: He conducts a press conference to make the announcement and says he would participate in the team's final home game on April 13 if he is healthy.
What are the chances that it will occur now? Not easy to say. After all, it's rare to see a hockey player declare his season over.
Toews has spent the past four home games with the club and has been around for approximately two weeks.
After their 5-0 victory over Ottawa at the United Center last Monday, according to coach Luke Richardson, Toews was first in line to congratulate teammates in the locker room. After Tuesday's 6-3 victory over Boston, Toews also waved and said "hello" to a few reporters as he passed the locker room.
"I know he's chomping at the bit to take the next step," Richardson said. "Just hopefully he gets there."
According to a Hawks spokeswoman, Toews "respectfully denied" numerous interview requests on Tuesday. If the team receives word that he would really retire, they have made internal plans to recognize the future Hall of Famer.
When asked to identify the most challenging season of his career in January, Toews nearly selected this one but chose the 2021–22 campaign instead.
"It's definitely been challenging this year," he said. "But I'd say last year was really difficult in the way that we had much higher expectations."
The fact that Toews was coming back after a year away contributed to the skyrocketing expectations. However, he had a terrible time at first and didn't score until Game 26.
On the ice, Toews acknowledged he didn't frequently feel like himself.
"It was a grind," he confessed.
With 8 goals and 5 assists in the first 17 games of the season, he got off to an explosive start. In the following 27 games, he continued to play admirably and scored 6 goals and added 9 assists.
Toews played in Edmonton two nights after missing the Hawks' game at Calgary on Jan. 26 due to a "non-COVID related illness" and scored a goal in the third period of a 7-3 loss.
Following returning from their week off, the Hawks released a statement on Feb. 5 announcing Toews will not practice, once again due to a non-COVID sickness. The 34-year-old captain made the aforementioned comments two weeks later.
"It has been really challenging to play through these symptoms," Toews said. "In the last few weeks, it has reached the point where I had no choice but to step back and concentrate on getting healthy. I am thankful for the patience and support of my teammates, the coaching staff, and the entire Blackhawks organization."
Consider this: Wouldn't it have been wonderful if Marian Hossa's fans had known her career was coming to an end in 2017? Or what if, on December 12, 2019, Brent Seabrook's career was over? In this instance, Toews has the chance to bid farewell during the season finale at the United Center. Imagine how he would be sent off.
It might rank as the franchise's most emotional moment ever.
Well, he certainly deserves it and only time will tell.