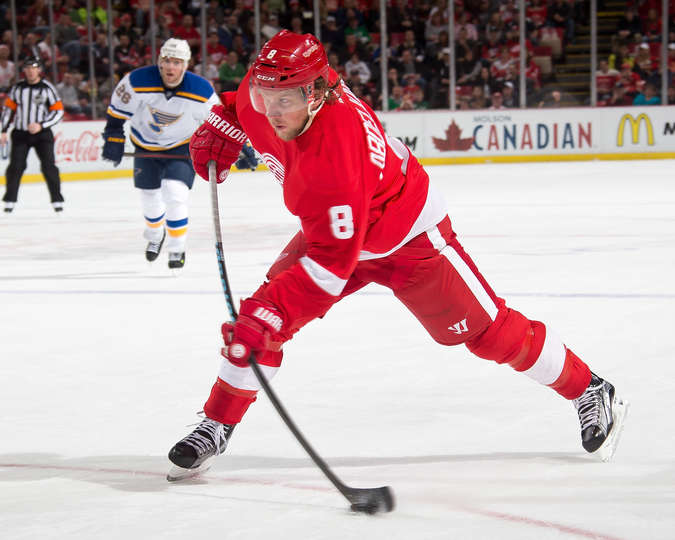 The Detroit Red Wings earned a crucial two points in overtime in a Sunday matinee against the St. Louis Blues.
Justin Abdelkader, who has had an outstanding 2014-15 campaign, was a difference maker both on and off the score sheet in this game. With 19 goals and 19 assists coming into the game, he had long surpassed his previous goal (10) and point (28) set last year. He has benefitted from playing much of the year alongside captain Henrik Zetterberg on the top line. Not usually known as a scoring forward, he has proven that he can consistently contribute points at even strength and on the power play as well (13 power play points).
"I think I'm just getting older, maturing in this league," said Abdelkader. "I know how I need to play, each and every night getting more confident with the puck on my stick. Obviously playing with really good players, playing with 'Z' a lot of the season, he's tremendous, he sees the ice so well, he's smart, he's good defensively. I felt like I had it in me. But, getting a good opportunity, anytime you see some goals go in, that always gets your confidence going in the right direction. I think that's kind of been the case, just try to go to the front of the net and the hard areas and you can get rewarded a lot of times if you go there and put the work in."
In this game, he directed seven shots at Blues goalie Jake Allen and made his physical presence known as well. The next highest shot total was three, by both Erik Cole and Teemu Pulkkinen. Everywhere the scoring chances were, Abdelkader was right in the mix.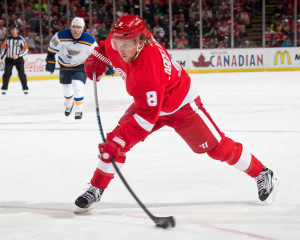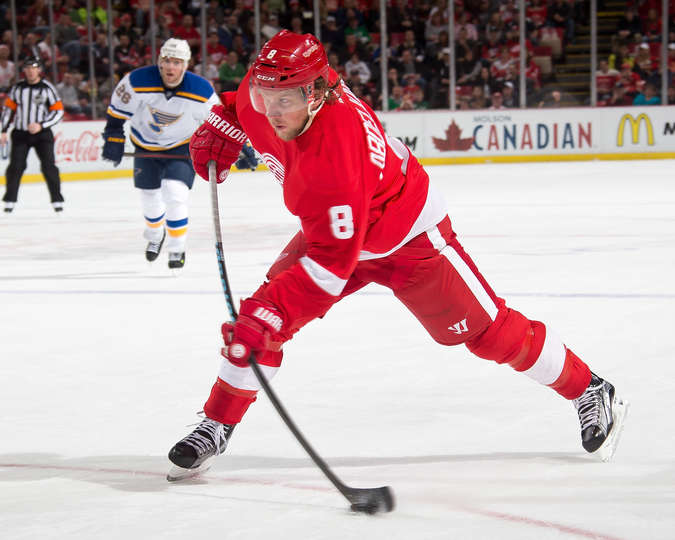 It was a tightly contested matchup and low-scoring affair. It was also a penalty parade, as the teams combined for 50 PIM.
"With St. Louis it's always those type of games, there's always not that much room out there," said Abdelkader. "It's always tightly checked. It always comes down to usually a one-goal game. You know, both coaches I know are good friends and play similar systems. It was a battle out there. Hopefully we can get this ship going in the right direction now. That was a great win, great third period there for us."
The game would stay scoreless for the first half before St. Louis's Alex Steen ripped a power play marker past Jimmy Howard near the period's midway point.
When the third period began, Detroit did not wait long to get on the board, as Erik Cole was able to poke the puck past Jake Allen just 24 seconds into the stanza. Abdelkader recorded the primary assist on the play.
At 5:55, Detroit's Drew Miller and St. Louis's Petteri Lindbohm dropped the gloves in what was a spirited duel, and set the tone for the remainder of the period. Both players would also receive minor penalties for cross-checking in addition to their five-minute fighting majors.
Even Detroit's most mild-mannered of players were involved in the physical play. Gustav Nyquist and his St. Louis counterpart T.J. Oshie mixed things up and were awarded matching unsportsmanlike conduct calls just 13 seconds following the fight.
At 10:38, both teams came together along the boards. Tomas Tatar threw a few punches at Blues captain David Backes, someone you don't want to anger. After the dust had settled, the penalties were doled out in bulk.
Tatar received two penalties (unsportsmanlike conduct, roughing), Backes one (roughing). Blues forward Chris Butler received one for roughing and one for tripping, while Abdelkader was called for roughing.
However, in the end, this trend of penalties would benefit the Red Wings, as Patrik Berglund's tripping call at 18:39 would carry over into overtime.
At the same time mark as Cole's goal in the second period, Abdelkader's hard work would finally pay off, as he scored the game-winner on the power play, with help from Marek Zidlicky and Niklas Kronwall. His stick fractured as he was taking the shot, but was intact just enough to push the puck past the goal line.
He reached the 20-goal plateau for the first time in his career and is now one point shy of the 40-point plateau.
"It's something you always shoot for, especially for myself, coming from ten goals as my previous career high," he said. "I felt like I had a lot of chances the last few seasons, playing some good minutes; I've gotten more power play time this year. Just trying to be good at the net, screen the goalie, get tips, get sticks on pucks, and finding ways to get them in. I think my confidence has grown. As you get older in this league, it's a tough league to come into as a young player, I've definitely learned it, felt like I continued to put work in and get better. It's a big accomplishment, but at the same time winning games is the most important."
The two points gave the Wings 89 for the season (39-21-11) with 11 games remaining in the regular season. Montreal and Tampa Bay will hold onto the first and second spots in the Atlantic Division, while Detroit will need to continue holding off the Boston Bruins (84 points) and Ottawa Senators (83 points) to secure the third spot. They have two games-in-hand over the Bruins and the same number of games as the Senators.
The final stretch of games will be a challenge for the Wings. Only 3 of the 11 games can be considered easy wins (Arizona once, Carolina twice). The others include (in order): San Jose, Tampa Bay, New York Islanders, Ottawa, Boston, Minnesota, Washington, and Montreal. However, six of these games take place in the friendly confines of Joe Louis Arena.
Follow me on Twitter @KevinSporkaHOHM