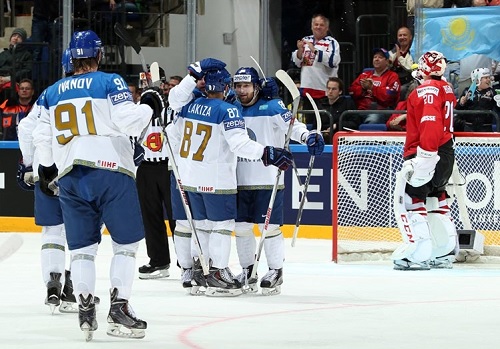 In a group where they were expected to be a top contender for the relegation round, Kazakhstan made an impact in their first game of the 2016 IIHF World Championships following a one-year absence from the tournament.
Though not at all incapable of making coherent plays, Kazakhstan received a lucky break, when an errant shot by Roman Savchenko from centre ice squeaked past Colorado Avalanche's goalie Reto Berra while shorthanded. Kazakhstan would go on to capitalize on the major error by the Swiss netminder to build momentum and take the lead in the game early in the third on a powerplay goal by captain Roman Starchenko. The Swiss battled back to tie the game on a powerplay goal off a tripping call made against Maxim Khudiakov; though the Kazakhs would go on to take the game in overtime, defying the pace-setting Swiss.
Switzerland dictated the balance of play for most of the game, putting up 51 shots against 36-year-old Kazakh goalie Vitali Kolesnik, who has played in the KHL for Lokomotiv Yaroslavl since the players and coaches were tragically killed in an air disaster. In a lineup dominated by members of Kazakh club Barys Astana, the veteran netminder stood tall and allowed Kazakhstan to upset the Swiss.
Kazakhstan faces a stiff test early Sunday morning, as they take on heavily favored Russia; whether they can pull a second consecutive upset remains to be seen.