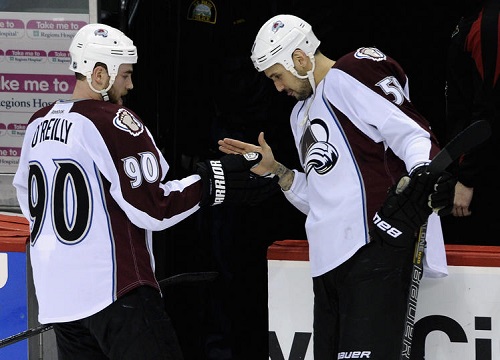 http://www.gettyimages.com/detail/news-photo/the-colorado-avalanche-celebrate-their-victory-against-the-news-photo/460625691
The Colorado Avalanche celebrate their victory against the San Jose Sharks at Pepsi Center on January 4, 2014 in Denver, Colorado. The Avalanche defeated the Sharks 4-3. (Photo by Doug Pensinger/Getty Images)
On a late May afternoon, weary Avalanche fans tuned into a news conference to hear a voice from the past say something that shocked and stunned most: We're going to have a Stanley Cup attitude. This came from none other than former Avs goalie and newly named head coach, Patrick Roy. Since the start of the 2013-14 season, this "Stanley Cup attitude" was not only evident in players and staff, but fans as well. This newly reborn club has certainly disproved most skeptics and has impressed its faithful followers. The key to continuing the improvement is iin keeping the winning attitude.
THE PLAYERS:

It's never been a question of whether the Avs squad was talented (Four Olympians? That's huge). The issue last season was the cohesiveness that was clearly lacking both on and off the ice. In a stunning move after a frustrating loss last April against the Calgary Flames, veteran goaltender J.S. Giguere went on a verbal rampage slamming the current roster for their losing mentality, as well as their ability to play as a team. This interview was a big wake-up call to the rest of the locker room, but big changes don't happen overnight. Between roster changes, big moves upstairs, and a new coach on the bench, the Avs are playing as a team. We're seeing big plays being executed on the ice, as well as a sense of family on the bench and in the locker room. It's apparent that there's a newfound closeness on this team than in years prior.
THE COACHES:
To alleviate the PTSD that many Avs fans are coping with, I'll keep the Joe Sacco references to a minimum. After making the decision to let Sacco go, many Avs fans sat wondering "what's next?" with much skepticism until that May afternoon. Patrick Roy came out swinging (no, literally) which became the water cooler talk for not only Avs fans, but fans across the NHL as well.
Besides his strict coaching techniques that seem to be paying off, Coach Roy has also impressed many in other ways, mostly by taking accountability for his team. In seasons past, losses were ridden with excuses, and it was Roy himself who had a Jiggy-esque outburst saying something to the extent of "all we do is make excuses around here". Post-game interviews are no longer scripted with talk about how the game started late, but instead honest answers about a lack of discipline, and a plan of action to improve going into the next game. With Roy, it's easy to see his knowledge of the game and his thirst to win, but also his passion for the Avalanche organization, and that's definitely translated to all levels.
THE FANS:
Last season, tickets were being given away at next-to-nothing prices. Entire sections were empty. Ex-Avalanche players criticized an entire fan base saying that there was no support in Denver. The organization was suffering from all angles. This season, there's support. People are buying tickets to games, some of those games filling to the point of standing room only. Many are dusting off old jerseys to celebrate the tradition that's in the Avalanche offices with heroes like Joe Sakic and Adam Foote returning as staff, as well as Roy. People are wearing Avs beanies at Seattle Seahawk games.
There is an Avs fan at this football game pic.twitter.com/97g6uhdROU

— James (@avsfan1933) January 12, 2014
Most of all, people are talking about hockey in Denver.
The Avalanche have a long road ahead of them before the playoffs and every game needs to be taken seriously, no matter what the team. Every point counts with the big powerhouses they're contending with in the West. Discipline and hard work are crucial in the next few months. In order to keep the momentum going, the thing that the Avs need the most is something they already have. A Stanley Cup attitude.