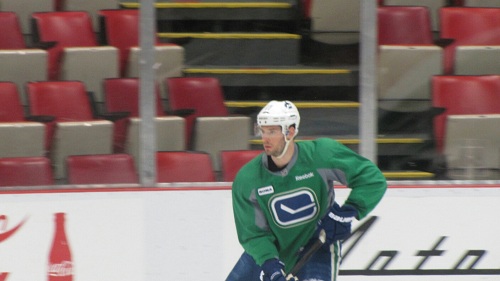 Ryan Kesler returned to the Vancouver Canucks just over a week ago. The Canucks greatly missed the 2011 Selke Trophy winner and All-Star for his discipline and dependable play, night after night.
He is considered by many to be one of the best defensive forwards in the NHL. He is almost as dangerous defensively as he is offensively. His style of play is comparable to that of Pavel Datsyuk, another 2-way forward with a history of winning the Selke Trophy. Both players can steal the puck at will and score often as well.
In just his second game back since major shoulder surgery, Kesler bounced right back and scored the first goal of the game on the powerplay.
His importance to the team as a whole is shown by the line combinations that coach Alain Vigneault has put together. Ryan is on the top powerplay unit in Vancouver, playing alongside the Sedin twins, Daniel and Henrik. You can't really ask for a better combination of scoring and defense on a forward line than that. The skillset from one of those players alone is remarkable.
At even strength, he centers the second line with linemates Chris Higgins and Jannik Hansen, two players who will greatly benefit from the combination (Higgins only has 4 goals, 7 points; Hansen only has 3 goals, 7 points).
Kesler is catching up with the fast pace of the crammed post-lockout schedule. "I'm still trying to get in game shape", Ryan said, "but maybe at the end of the season I might have a little left in the tank."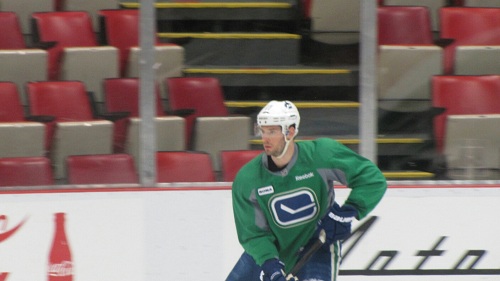 There are three sets of back-to-back games left in Vancouver's schedule, and it can't be easy to jump right into this rapid pace and be expected to regularly contribute on a daily basis.
Luckily for the Canucks, they have a lot of depth up front. The Sedin twins have contributed 36 points (combined) in 18 games. Right now, Vancouver has a firm lead on the Northwest Division, and they have done so without overusing their core six forwards. Daniel (18:55) and Henrik (19:56) rarely have to play more than 20 minutes a night.
Vancouver's powerplay percentage this year is 11th in the NHL at 18.2%. Their penalty kill percentage is 19th at 79.5%. They hope Kesler can turn that around.
Last night, when the Canucks faced the Detroit Red Wings, Kesler played 2:05 on the powerplay and 2:42 on the PK. He's a guy that the team can turn to in all situations.
After yesterday's morning skate at Joe Louis Arena in Detroit, goalie Roberto Luongo talked about what Ryan brings to the Canucks.
"He's a big part of our team." Luongo said. "There are a lot of things that go unnoticed. He's a guy that's huge on the PK, blocks shots, [wins] faceoffs etc…"
There are 30 games left in the regular season for the Canucks. Currently Vancouver is the only Northwest Division team in the Top 8 of the Western Conference. In their last 10 games, they have gone 6-2-2, the third best record in the West in this time frame.
They return home on Tuesday night to face the Phoenix Coyotes next.