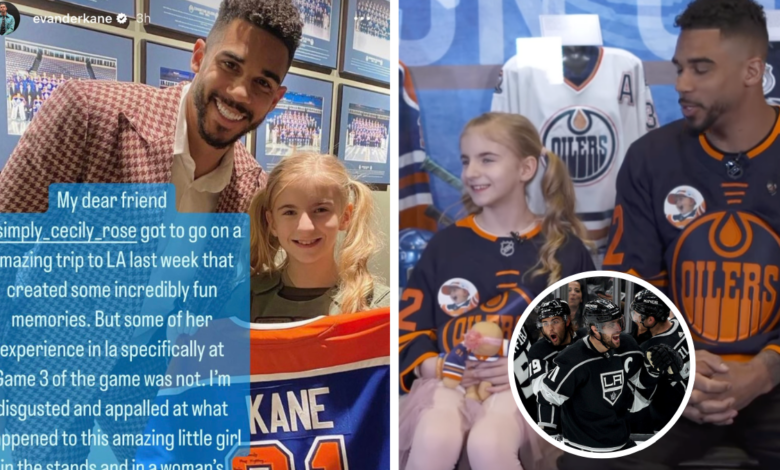 You may have heard about the upsetting incident that Edmonton forward Evander Kane brought to public attention after Game 3 in Los Angeles, when he claimed that a young Oilers fan named Cecily Eklund, who is battling brain cancer, was spit on and cursed at when she attended the fourth game of the first round series.
"There was a fight just two rows in front of Cecily, she was spit on, sworn at," said her mother.
Kane took to social media to condemn the supporters who participated in the heinous act, and as a result, the Oilers' forward was mocked and humiliated. He posted screenshots of a rude direct message he claims he got.
"Maybe you should be kind and not be such a f—–g scum bag," the message stated. "We Kings fans literally hate you. You made us spit on kids for being a dirty mother f—-r. Listen to your own words and be kind. You f—-n scum bag."
When more investigation was conducted, it was discovered that the fan who wrote the vile message worked at Mercedes-Benz of Escondido, a car dealership located north of San Diego. Global News contacted the employer, which confirmed that a person with the same name no longer works there.
The individual's Instagram account appears to have been deleted as well.
What should be observed from this awful event is that not all Kings' fans are the same, and some Kings' fans choose to help Cecily and her cancer fight by putting Cecily's Stollery donation page online and encouraging others to donate.
"Let's show her what real Kings fan are like," posted Twitter user ZachtheKingsFan.
Hey Kings Twitter, this awesome and amazing hockey fan is named Cecily, and she has cancer. Here is her donation page. Let's show her what real Kings fans are like.https://t.co/gWSxofeoDx

— x – Grand Inquisitor Zach (@ZachtheKingsfan) April 25, 2023
On Tuesday afternoon, Cecily's mother had realized that more than $7,000 had been donated to her daughter's donation page from Kings fans.
"Real Kings fans are rooting for you," said a supporter that donated $25.
That was the intended outcome.