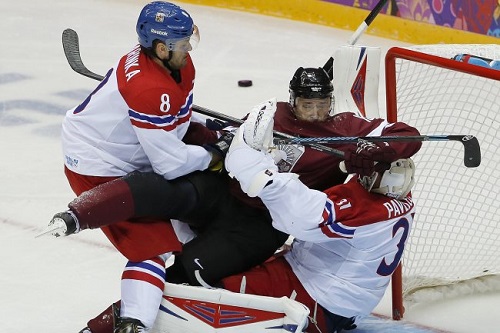 The 2014 Winter Olympic Games in Sochi are officially over for Latvia as they failed to earn a single point in three games against some good competition. Fresh off of a last second defeat at the hands of Switzerland, the Latvians lost two hard fought battles against the Czechs and the Swedes in back to back days to end their tournament.
In their first game, Latvia came within seven seconds from forcing overtime before Switzerland scored a fluky goal to take the 1-0 decision. Their next two games were played competitively, but against much stronger competition. Latvia was able to tie the Czechs early in the second period of Thursday's game, but was unable to hold the Czechs at bay, giving up two goals after the equalizer to lose 4-2.
In Saturday's game against Sweden, the Latvian squad surprised everyone by taking a 2-1 lead early in the second period before succumbing to the unrelenting pressure of the Swedes. Sweden was able to recover from their early deficit and win 5-3, handing Latvia their second two-goal loss in as many days.
While the scores and standing don't portray a competitive Latvian team, Latvia was in each and every game they played in. They took Switzerland to the brink of overtime, came back strong against the Czechs to tie the contest in the second period, and held a lead in the game against Sweden. Latvia may not have earned a single point in the standings, but they showed that they were no pushovers either.
This was only Latvia's fifth Olympic appearance, but they showed that they could compete with some of the best talent in the world. They didn't play against powerhouses like the US, Canada, or the host country Russia, but they were able to stay in each and every game they played. They have made four straight Olympic Games, and will continue to play for national pride.
By consistently playing in the Olympics, Latvia is gaining valuable experience playing against the world's best players. Expect them to be around in 2018, and who knows: they may be able to play well enough to win a few games next time around.