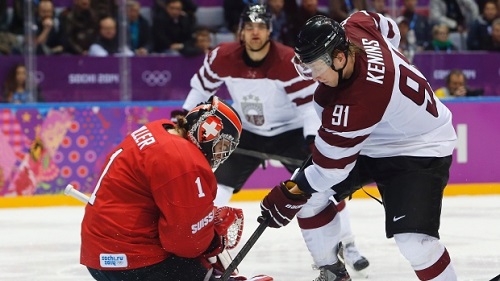 The elimination round of the Sochi Winter Olympics began Tuesday, and among the teams expected to advance to the next round in the men's ice hockey tournament, Latvia was not one of them. They faced a Switzerland team that they faced in the opening game of the tournament. The first game between these two teams ended in heartbreak for the Latvians as the Swiss scored a goal with seven seconds remaining in regulation to win 1-0.
The eleventh seed in the tournament wouldn't be outdone by the Swiss again, however, as they put together a full team effort and avenged their previous defeat in the form of a 3-1 victory and a chance to play in the quarterfinals.
Latvia jumped out to a two goal lead in the first period, as Oskars Bartulis opened scoring with a goal eight and a half minutes in, and Lauris Darzins scored again three minutes later. Latvian goaltender Egars Masalskis was sensational all game long, and only allowed a single goal early in the second period. Masaliskis finished the game with 32 saves and was able to keep Switzerland at bay while the Swiss frantically tried to tie the game late. With the net empty, Darzins scored his second of the contest for Latvia to ice the game and to preserve the win for Latvia, their first of the tournament.
They were heavy underdogs going into the game, and hadn't earned a single point in the three previous games of the tournament. They played Switzerland very competitively in the first matchup of these two teams, and earned the victory in the second game.
With the win, Latvia advances to the quarterfinals of this year's tournament. Their opponent: the 2010 gold medal Canadians. While off to a slower start than normal, Canada has played much better as of late and looks to be returning to their dominant form that this ice hockey juggernaut is known for. This will be an incredibly tough task for the Latvians, who lost 5-3 to the first seeded Swedes earlier in the preliminary rounds. Latvia is playing with house money now as no one expected them to come this far, but Canada would be wise no to take this Latvian squad lightly.