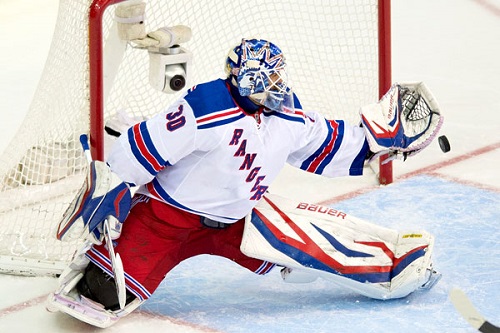 After a Summertime trip to his homeland of Sweden, Henrik Lundqvist returned to New York on Monday to begin preparing for Rangers Training Camp and the 2013-14 season. The 32 year-old netminder had plenty to say in his conversation with Larry Brooks of the New York Post, but here's the money quote:
"If we can find a solution, it's no secret that this is where I want to be — I'm not thinking about free agency at all. The way the organization has treated me, the way that our team has played over the last few years, the way I feel about New York City, this is definitely the place I want to be."
If you're a Rangers fan, you're starting to feel all warm and fuzzy, until …
"But we do have a few things we have to talk about."
Ah, the dreaded "But". This is nothing out of the ordinary when a franchise cornerstone is in the process of negotiating a new contract on the last year of a deal. For Lundqvist, this could be his last NHL contract (depending on the length of the deal). There's no doubt that he's one of the best goalies in the world and should be paid as such. The highest paid goaltenders in the NHL right now are Nashville's Pekka Rinne and Boston's Tuukka Rask. Each are at a cap hit of $7 million per season (Rinne through 2018-19, Rask through 2020-21). Lundqvist will certainly get more than that, but the question is how much more?
Lundqvist has been an invaluable piece to the Rangers organization since the 2005-06 season. The Rangers highest paid player currently is Rick Nash at $7.8 million (through 2017-18). I could see Lundqvist clearing $8 million per year easily. But as Brooks speculated in his article, he could get a max deal as high as $9.5 million per season. Based on this year's cap number, $9.5 million would account for 14% of their cap space.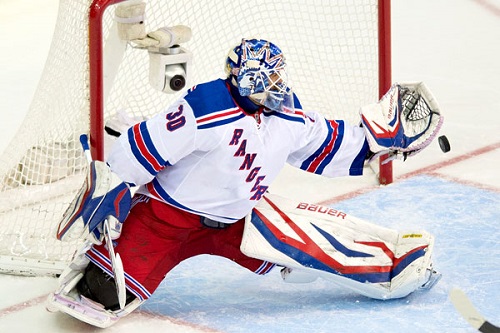 Should Lundqvist be paid a king's ransom? Absolutely. He's still at the top of his game, he's a major reason why the Rangers have had any sort of success over the past 8 years, and the rest of the team likes playing in front of him (who wouldn't?). But the Rangers have to be careful of how high of a bar they set. While Nash may be the team's most talented player, Ryan Callahan is up there in terms of value to the franchise. He's also an unrestricted free agent after this season. There's a good chance that Brad Richards' salary could be gone after this season to help free up some space, but keeping important pieces around a franchise's core gets tough when three guys could take up over a third of the cap space. Callahan currently makes $4.275 million a season. I can see him getting somewhere in the $5.5 million dollar range. That being said, there are a lot of NHL teams that would love to add Callahan to their roster, and would get in to a bidding war to do so.
Speaking of Rangers forwards that need a contract, restricted free agent Derek Stepan remains unsigned. He's coming off his entry-level contract, and is due to make a lot more than the $875,000 salary he was making. Considering his numbers have improved in each of his three seasons, and that he took over the team's 1st Line Center role last year, the Rangers would offer him a deal worth at least $3.3 million per season. By doing that, the Rangers not only offer fair compensation, it also puts a 1st and 3rd round pick price tag on any team that tries to steal him away with an offer sheet. I don't think it's a matter of if Stepan will be in training camp, just a matter of when.